`I speak for those who cannot speak or themselves'
Wallace pupils hear moving experiences of Holocaust survivor
by JULIE ANN SPENCE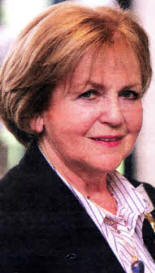 PUP1LS at Wallace High School had a unique opportunity this week to hear first hand about the experiences of Holocaust survivor, Mala Tribich.
Mala was paying her first visit to Northern Ireland and was thrilled to have the opportunity to share her experience with the local students.
"Personally for me the reason I share my experience is because I feel a duty to do it because I was lucky enough to survive," she explained. "I feel I have got to speak for the people who cannot speak for themselves.
"I find young people are extremely responsive, they are really interested and always want to hear more.
"It still pains me to talk about it and as time goes on it gets worse, not better. Sometimes I can hardly believe it happened to me."
Mala was born in Poland in 1930. With the Nazi invasion of Poland and the start of the Second World War in 1939 Mala's family at first fled eastwards. When they did return to their home town, Mala's family had to move into the first ghetto in Poland which was established in her home town. Life in the ghetto was terrible with families living in overcrowded, unhygienic conditions. Outbreaks of typhoid were common.
In 1942 there were rumours that only the Jews working in administration and those with work permits would be allowed to stay in the ghetto. The majority of Jews were to be rounded up and deported to labour and concentration camps. It was at this point that Mala's parents together with her cousin Idzia's parents made arrangements for them to go into hiding with a Christian family in the town of Czestochowa.
Mala and Idzia, one year younger, were to be taken to Czestochowa to try and pass as Christian children and stay there until the deportations were over. The day arrived when a couple named Maciejewski came to their home to collect payment in advance. It was arranged that Mala would be collected first and Idzia a week later. It would have been too dangerous to take two Jewish children on the train at the same time.
| | |
| --- | --- |
| | |
| Wallace High School Deputy Head Mr Alastair Craig, Wallace pupils Rachel Logan and Louise Lowry with Holocaust survivor and Deputy Mayor Paul Porter. US2310-117A0 | The Bergen Belsen camp where Mala was held captive. |
Mala and Idzia found themselves living in a house on the edge of the town. Life was at times uncertain for the girls and they often felt vulnerable. They were frightened, homesick and exposed to many dangers. To make their identities anonymous, they had to pretend to be relatives from Warsaw if asked. Sometimes it was safe to mix with visitors to the house but at other times the girls had to hide in a wardrobe and stay there until the visitors had left.
Both Mala and Idzia missed their parents but it was still not safe for them to return. When Idzia told the Maciejewskis that she could go and stay with good friends of her family who were looking after valuables for her parents they took her there.
Mala was eventually taken back to Piotrkow-Trybunalski where her father was waiting for her in the attic of a flour mill — Idzia's father was there too. On seeing Mala he turned white with shock and said "where is my daughter?" He continued to pace up and down saying "what have you done with my child?" Idzia was never seen again.
Soon after Mala's return to the ghetto there were further round-ups during which her mother and eight year old sister were taken. All these people were brutally killed in the local forest.
Soon afterwards Mala had to undertake the responsibility of caring for her five year old cousin Ann whose mother was deported to a concentration camp. Then the ghetto was liquidated and Mala became a slave labourer in a large wood working concern.
In November 1944 the remaining Jews were deported, Mala was separated from her father and brother and together with Ann was sent to Ravensbruck concentration camp. After two and a half months they were transported, in cattle trucks, to Bergen-Belsen concentration camp. There conditions were appalling, epidemics raged and Mala contracted typhus. At the time of the liberation by the British Army, Mala was very ill. She was transferred to a hospital/children's home and it was many weeks before she recovered. Three months later she was sent, with a large group of children, to Sweden where she spent nearly two years. Not expecting any of her family to be alive, Mala was surprised to receive a letter from her brother Ben in England, the only other member of her close family to have survived. In March 1947 Mala came to England to be reunited with Ben. She learnt English, attended secretarial college and within a year was working in an office.
In 1949 she met Maurice whom she married in 1950. Whilst her children were growing up Mala studied and gained a degree in Sociology from London University.
Today Mala has two children and three grandchildren. She enjoys spending time with her family, travelling, going to the theatre and playing bowls.
Mala talks to school children about her experiences and tries not to dwell on hatred but the positive. She said that "despite all the terrible things around us there is hope in the world -there is a lot of goodness out there. "My wartime experiences have made me aware of human frailty and of how quickly a civilised society can break down under the rule of a despot but it has also taught me never to give up hope and to strive and work hard for a better world."
julieann.spence@ulsterstar.co.uk
Ulster Star
11/06/2010