Moira dad fulfils daughter's dying wish with trek across America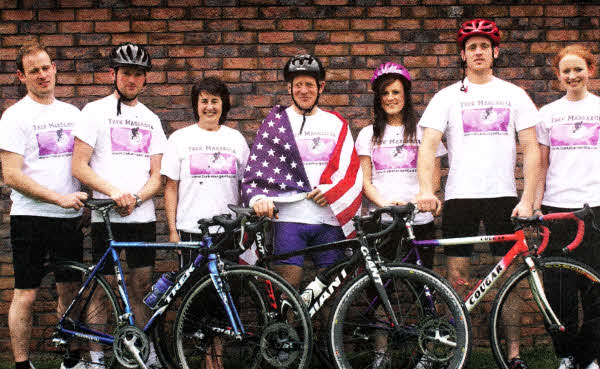 Mark Jr, Connor, Kathleen, Mark, Louise, David and Eleanor Kelly prepare for
Trek Margarita.
A MOIRA father is cycling 4,500 miles across the United States to raise money for charity and fulfil the dying wish of his daughter. Mark Kelly, 60, who has cycled around Ireland in the past to raise money for charity, has already completed 1000 miles of his epic journey in memory of his daughter Margarita, 20, who lost an eight-year battle with cancer in June last year.
Mark's wife Kathleen, who is travelling out to America at the end of the trek for a celebratory party in Rhode Island on August 6 at the end of the journey, said everything had been going well so far.
Our daughter battled cancer for eight years and before she died she told her father she wanted him to cycle in America for charity and he took her at her word," explained Kathleen.
"He wanted to raise money for charities who helped Margarita and to thank the very hardworking staff in the Haematology Ward at the Royal Victoria Hospital.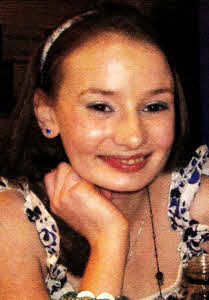 "Mark has never taken sport seriously," she continued. "He is a hardworking farmer but he has cycled from Mizen Head to Malin Head before to raise money for charity. He is a very determined man though so I know he can do it.
"It has all been going to plan so far, although they have had to deal with changing weather, from sunshine to snow. They have already travelled through four states and hopefully will reach Rhode Island at the start of August."
Mark is being joined on the coast-to-coast effort by friend Roy Kennedy - and there will also be lots of local cyclists joining them on different legs of the journey, including John Ward, John Loughran, Jimmy Hunter, Barry Murray, Pat Gibney, John Heaney and his teenage sons Connor and Mark, Celine Bradley, Brian Henry, Eddie Doyle, Michael O'Reilly, Dennis Cormacan, Stephen Mason and Nigel Gilbert.
Many members of the Kelly family are joining the team for parts of the journey and they were also joined by four cyclists from America for the first week.
The group also have an invaluable support team driving alongside them in a well-stocked RV driven by a host of local men, including John Mallen, Brian McCoy, Andrew Thompson, Brendan Stevenson and Bruce Hogg.
The journey will last until the start of August and the team is hoping to raise £25,000 for a number of local charities including Royal Victoria Hospital for Sick Children, Haematology Ward, Shine-A-Light'
Macmillan Cancer Care and Northern Ireland Children's Hospice.
Donations can be made online at www.trekmargarita.com.
julieann.spence@ulsterstar.co.uk
Ulster Star
25/06/2010