Zoe puts best foot forward for Marie Curie's Chance to Dance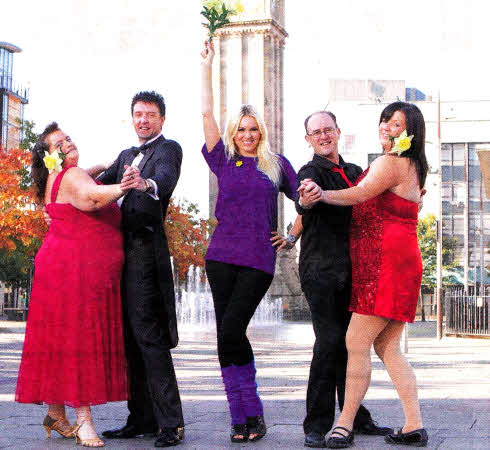 Zoe with (L-R) Ruth Steward and Jason Dean from Belfast and Ulster Salsa and Open Irish Salsa Champions Stephen McCune and Vicki Calvert from Lisburn ahead of next month's Chance to Dance event in Lisburn.
TV presenter Zoe Salmon put on her dancing shoes and officially launched Marie Curie Cancer Care's Chance To Dance event.
The former 'Dancing on Ice' contestant, who is no stranger to busting a few dance moves, was seen practicing her salsa steps with local salsa dancers.
Chance to Dance gives people the unique opportunity to learn four different dance styles in one day before coming together with hundreds of other participants as part of a group dance. Every step performed will help Marie Curie Cancer Care provide more free nursing care to terminally ill patients in their own homes or at one of the charity's hospices.
The event, which is being held at Lagan Valley Island, Lisburn on November 7 will include a range of dance lessons from Salsa and Flamenco through to the Cha Cha, Quickstep and even Michael Jackson's 'Thriller'. Each class is tailored to suit any ability, so whether you're a complete beginner or a dancing pro, there'll be something for you.
Commenting on her support for Chance to Dance, Zoe said: "Chance To Dance is a fantastic opportunity to learn some new dance moves whilst raising funds for Marie Curie Cancer Care. Even if you've got two Ieft feet you're sure to have a lot of fun and the money raised will allow more Marie Curie Nurses to provide free care to patients with terminal cancer and other illnesses in their own homes or one of the charity's hospices."
Teresa Sloan, Regional Events Manager for Marie Curie Cancer Care Northern Ireland added: "This year we hope to raise a staggering £20,000 from people taking part in Chance to Dance. Last year, Marie Curie Nurses in NI cared for over 1000 patients in the community, the hospice cared for 250 patients and over 2000 day care appointments were provided for patients with terminal cancer and other illnesses totally free. Remember, just £20 will pay for one hour of care from a Marie Curie Nurse."
For more information on Chance to Dance visit www.mariecurie.org.uk/dancing or to sign up to the Lisburn event, call 02890882062 or email: NIEvents@mariecurie.org.uk
To get help from the Marie Curie Nursing Service, talk to your GP, district nurse or discharge nurse. For more information, please visit: www.mariecurie.org.uk.
Ulster Star
15/10/2010