Blind Lisburn adventurer seriously injured in fall
by STACEY HEANEY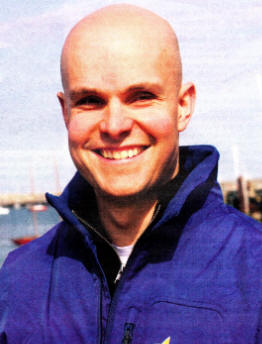 LISBURN adventurer Mark Pollock is in intensive care in an English hospital after falling 25ft from the window of a house in Berkshire.
Blind adventurer Mark, who was born in Lisburn and grew up on the Magheralave Road, was sleepwalking last Friday night when he fell from an upper floor window in a house in Henley, having attended the Henley Royal Regatta.
Mark, 34, is said to be in a "stable but serious condition" in the Royal Berkshire Hospital, having sustained multiple broken bones and internal injuries in the fall. The local man recently spoke to the Star ahead of his attempt to become the first blind person to navigate his way around Ireland in a two-man team in the 1,400km Round Ireland Yacht Race.
However, Mark's participation in the Yacht Race may have contributed towards his accident as he was still recovering from having completed the race. During the race Mark and his co-skipper, Air Corps Captain Mick Liddy, suffered severe electrical failure, disabling their autohelm which meant they were unable to sleep for nearly four days in a row.
Mark has taken on a series of extreme adventures since losing his sight at 22, having previously trekked to the South Pole, been the first blind person to complete the lowest and highest marathons in the world, including the Dead Sea Ultra in Jordan and the Tenzing-Hillary Everest Marathon.
Mark won silver and bronze medals in rowing at the Commonwealth Games in 2002, and was attending the Henley Royal Regatta as a spectator whet the accident occurred. He had returned home early from Leander Club at 10.30pm and went to bed.
Some time after that, Mark was sleepwalking and fell 25 feet into the,front garden, where friends immediately came to his aid.
Mark is set to marry at the end of July and his fiancée Simone George credited his friends, quick reactions with saving his life.
Simone said: "We want to say thank you to his friends for saving his life. We cannot express what we feel for them. Mark is focusing on getting better. He would like to thank everyone for their love and their prayers and their thoughts."
stacey.heaney@ulsterstar.co.uk
Ulster Star
09/07/2010