Blind adventurer Mark in battle to walk again after horror fall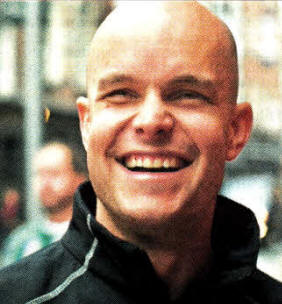 LISBURN adventurer Mark Pollock has overcome much adversity in his life, losing his sight at just 22, but now he faces possibly the biggest fight of his life after breaking his back in three places in a horrific fall earlier this month.
Mark, who hails from the Magheralave Road, has revealed for the first time the extent of the injuries he suffered in the 25ft fall from the window of a house in Berkshire, whilst attending the Henley Royal Regatta on July 2.
Writing on his blog Mark said: "I fractured the back of my head, my chest and torso seemed to be filled with blood and my back is broken in three places, I think, plus some ribs."
Mark, who told followers he is in a specialist spinal unit where he will remain for at least three months, added that he does not know whether he will be able to walk again, having lost all feeling from his navel to his toes. "I don't know why the fall let me away so lightly and I am still trying to work out how I am still alive" he said. "Now, two weeks on, I do not feel like I am in danger of dying. But the question of what I should feel is on my mind now..."
In a blog entitled 'Optimist' realist or something else?' posted on July 17, the 34-year-old said: "Right now I cannot even turn onto my side. I am flat on my back in the most specialised spinal unit in the world and I am surrounded by guys who are currently paralysed from either the neck, chest or waist down. I am better off than many of these guys and worse than some. But the question that I cannot answer is — am I one of these guys at all?
"The first step for me in a crisis is to start dealing in facts. But I am struggling to work out what they are, are my legs temporarily asleep or am I just in denial? If I embrace and accept that my legs are not working then will I shut off the power of the mind to fix what we do not understand?
"I read a book called 'Good to Great' by Jim Collins once. He spoke about the Stockdale principle in relation to long term p.o.w. Prison camps and how optimists were not the ones who survived. Realists did.
"The reason was that the optimists kept thinking they would be free soon but they never faced the reality that they may never get out. As a result they were constantly disappointed and died in their cells. But the realists dealt in facts. The reality of their current circumstances. They were the ones to survive.
"I can deal in the reality of today. My legs don't work, I am in hospital and the doctors cannot tell me if I will get any feeling back. This is the current reality. What I do not know is should I be super positive and say I will make a full recovery or do I risk being a stockdale optimist?
"Or do I start preparing myself for never walking again? I am going to fight this but I don't yet know what the fight is with."
In messages of support for the local man, who has trekked to the South Pole, been the first blind person to complete the lowest and highest marathons in the world including the Dead Sea Ultra in Jordan and the Tenzing-Hillary Everest Marathon, and last month he took part in the 1,400km Round
Ireland Yacht Race, followers gave Mark encouragement.
One said: "you are a warrior and a source of inspiration for so many people across the globe. Fighters fight and that is just what you are going to do."
Old school friend Michael Breene said Mark has been an inspiration to him, adding: "This is certainly your biggest challenge to date, but I am sure as always you will amaze us with your determination and postive attitude. My thoughts are with you for a speedy and full recovery."
Another supporter, Andrew Griffith added: "I've been inspired by your achievements to date and expect that your courage won't fail you now."
You can follow Mark's blog at https://markpollock.posterous.com/
stacey.heaney@ulsterstar.co.uk
Ulster Star
26/07/2010