Self penned play to help finance young actor's dream
SHOWS TO HELP MATTHEW THROUGH FINAL YEAR OF DRAMA COLLEGE
by MARY MAGEE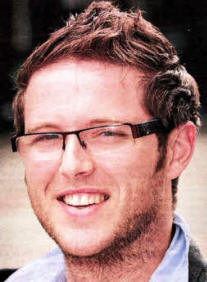 A YOUNG playwright will be fulfilling his ambition of writing and starring in his own play when he takes to the stage next month.
The play about love, hate and betrayal will also help finance Matthew Forsythe's ftnal year at drama college in London.
Matthew, 30, from Hillhead Road in Stoneyford left his job in joinery after 12 years to pursue his dream of being an actor. Now he is expanding into writing with 'Its a Boy.'
It is his first playand is about two life long friends, Beth and Clare, who love the same man Steve (played by Matthew). Aoife Lenning and Amy Hydes who take the leading female roles are also on Matthew's course in London. The play is directed by Christine McCauley.
Matthew was one of just 80 people selected to go the the Drama Studio in London out 5000 applicants last year.
He has been helped by a scholarship but now in the final year of a two year Classical Acting
course he needs to raise extra money. He already works in a pub part time nut came up with a unique idea to heIp ftnance his final year while doing something that he loves.
The result will be staged at Belvoir Players Theatre on September 17 and 18. Tickets are £8.
Matthew has been a keen amateur actor and worked with many local companies for several years. He has taken private lessons from Ashley Fulton and classical actor Jenny Long and had a chorus role in Guys and Dolls at the Opera Houseas well as the leading role of Lieutenant Danny Gilmartin in New Lyric Operatic Company's production of Calamity Jane in 2008. He also gained his licentiate Diploma in Musical Theatre from the London College of Music.
"Joinery was always something that I liked but I knew that I didn't want to still be doing it in 40 years'" he said.
"When I leave the course the dream would be to be in a leading role in the West End and perhaps open my own theatre company one day. There are very few Shakespeare shows here and
I would love to stage them here."
Ulster Star
27/08/2010