Mayor says farewell with community concert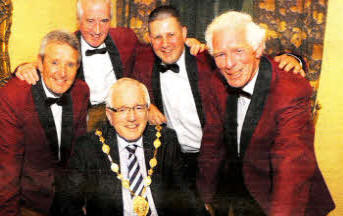 Lisburn Mayor, Councillor Allan Ewart, with Hugh McKee, Robin Campbell (Chairman), Stephen Dickson and Brian Johnston !Secretary) of Baillies Mills Accordion Band as they announce details of the Mayor's farewell concert in Lisburn in aid of the Mayor's chosen charity TinyLife.
THE Mayor of Lisburn Councillor Allan Ewart is holding a free farewell concert on Thursday, June 17 to mark the end of his Mayoral term and thank everyone for contributing to a memorable year in office. The concert will take place in the Island Hall at 7.45pm and will feature the talents of local band, Baillie's Mills Accordion Band and the Riverdale Primary School Choir, winner of the recent Lisburn City Primary School Choir of the Year 2010 competition.
The Mayor is inviting everyone to join him at the free concert for an evening of musical celebration from local talent. "This farewell concert is my way, of thanking the people of Lisburn and beyond, and all those people and groups I have worked with throughout my Mayoral term, for making the last year an extraordinary year," said Mr Ewart. "It is my way of giving something back to the community.
"I am delighted the Baillie's Mills Accordion Band will perform at my concert. The band, who celebrated their 70th Anniversary last year, recently had the honour of taking part in Norway's Constitutional Day Parade in Bergen. They were the first accordion band from outside of Norway to have been invited to take part, so it is not only Lisburn that recognises the tremendous talents of this band.
"The Riverdale Primary School Choir were also recently rewarded for their talents when they won the Lisburn City Primary School Choir of the Year 2010. This concert gives the choir the opportunity to remind us of why they received this coveted title. Again I am delighted to have them perform at this concert.
"Finally I would to say to everyone in the Lisburn City Council area thank you for supporting me as Mayor over the last year and I hope I have positively contributed to our City, its development and its people. I hope as many of you as possible can come along to my farewell concert. The showcase of music and talent is sure to be a great family evening out."
Tickets for the concert are free of charge and will be allocated on a first-come, first-served basis. The Mayor is asking those who attend the concert to make a discretionary donation to his nominated charity TinyLife in one final effort to boost the money already raised for this worthwhile charity.
To get your tickets contact the Island Hall Box Office on 9250 9254 or by calling in person to Lagan Valley Island.
Ulster Star
11/04/2010