'Humbled' Mayor names Carers Forum as his chosen charity
by REBECCA McTIER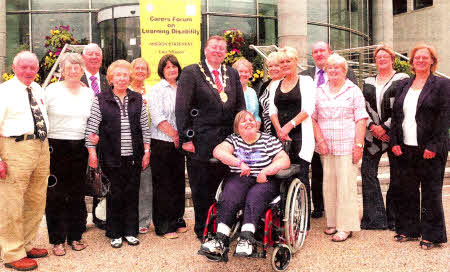 The Mayor, Alderman Paul Porter, with representatives from The Carers Forum on Learning Dlsablllty which has been named as the
Mayor's Charity for the coming year.
ALDERMAN Paul Porter has officially named The Carers Forum For Learning Disability, as his chosen charity for his Mayoral Term.
The Carers Forum was set up to provide a voice for local people with a range of learning disabilities and their families. It works tirelessly to raise awareness of the many complex issues that these families face, liaises closely with statutory agencies and key decision makers to influence policy and provides a support network across the City.
Mr Porter said he had a long established relationship with the Forum, having worked alongside it on a number of projects and was continually humbled ny the unsung work that is carried out by Lisburn Carers.
"The commitment of carers in our society goes largely unnoticed and most often undervalued. People with learning disabilities are some of the most vulnerable in our society and it is groups like The Carers Forus, that ensure that their needs are not overlooked" he said.
"Caring, whether it be for a child, parent or sibling with special needs is a 24 hours a day, seven days a week commitment. Those of us who are not full-time Carers cannot fully understand the pressure that such dedication brings about and I wanted, as part of any term of office, to publicly applaud these Carers, recognise the valuable contributution made to society by people with learning disabilities and raise much needed funds for this charity."
In June 2009, the Forum was awarded the Queen's Award for Voluntary Services.
Anne Blake, Chairperson of The Carers Forum, said they were delighted and honoured to have been chosen as the Official Charity for Alderman Porter's Mayoral Term. "As a voluntary group we are dedicated to improving the aspirations and dreams of people with a learning disability and their parents/carers in the Lisburn area" she said.
"The future is going to be hard for many but when you have a learning disability life is always difficuite as this is a life long condition with no reprieve.
"We look forward to working with the Mayor raising awareness of the needs of the learning disabled community'" said Anne.
The Mayor's Office is keen to hear from any people or organisations who would like to get involved with the Mayor's Charity and help to raise funds for the Carers Forum. Please contact the Mayor's Secretary on 92509250 or email: mayors.secretary@lisburn.gov.uk
"I hope that, through my Mayoral Term, I can continue to lobby all relevant agencies to ensure that the needs of those with learning disabilities and special needs are kept high on the agenda, raise the profile of the Carers Forum for Learning Disability across the City and, with the support of the people of Lisburn, we can raise much needed funds for this very special charity," concluded Mr Porter.
Ulster Star
06/08/2010