Mervvn's trek is a once in a lifetime experience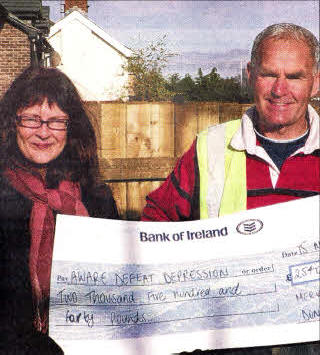 Alison Smyth from Aware Defeat Depression receives a cheque for £2540 from Mervyn Donaldson after he successfully climbed Kilimanjaro to raise money for the charity.
LOCAL bricklayer Mervyn Donaldson may be used to heights, but even he saw the world from a different angle when the climbed Africa's highest mountain in October with 11 others to raise money as a tribute to his brother Maurice who died suddenly a year and a half ago.
54-year-old Mervyn, from Temple, climbed the 18,000 foot Kilimanjaro and raised £2,540 for Aware Defeat Depression - but it was a challenge that he almost did not make.
On the fourth day of the five day challenge he started to suffer badly from altitude sickness.
He had geared himself up physically with training and could get from Newcastle to the top of Slieve Donard which is around 2,700 feet up, and back again in just over an hour.
However what he couldn't prepare for was the challenge of going to such an altitude.
Mervyn - who is originally from Kilkeel said: "For anyone thinking of undertaking a similar trek,
one word of advice - do not underestimate this mountain.
"I love the Mournes but it is very different from Kilimanjaro. The first three days climbing were fine but then I started to feel really unwell.
"The altitude sickness affected me big time. I cannot even remember reaching the point. I began to have a sore head and then was very sick. I could not keep anything down and was unable to eat.
"On the last day I felt really tired and lethargic.
"I rested for a while before being woken at midnight for the final push. I was advised not to climb due to my poor health but I knew I had to soldier on.
"It wasn't long before I questioned whether or not I had made the correct decision. However, 5 hours and 30 minutes later I had finally reached Gilman's Point (one of the official summit points).
"We could have gone on for another hour and a half to another point but it was decided that we had to stop. I remember nothing about reaching the point.
"It wasn't long before we were back down again but I was still poorly for a few days after.
"I still don't have any idea how I made it to the top. I don't remember anything."
The money raised is for the charity that works exclusively with the one in four people in Northern Ireland who experience depression. It will go towards the services Aware offers, including a telephone helpline and 20 support groups across Northern Ireland.
Mervyn said he would like to thank everyone who helped him raise the money, but isn't planning on a repeat.
"I'll stick to the Mournes in future" he said. "Anyone who plans to climb Kilimanjaro should not take it lightly, It has taken the lives of 86 people. It is a good experience but it is once in a lifetime experience."
If you wish to participate in fundraising events for Aware Defeat Depression, contact Lorraine on 9032 1734 or email lorraine@aware-ni.org.
Ulster Star
03/12/2010