Moira slimmer's reach the summit of their ambition
and help Marie Curie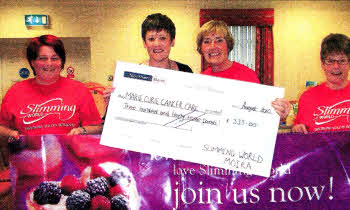 L-R Gillian Musgrave, Jill Ellis, Grizel Turkington and Clara Crookshanks. US351O-Slimming World
MEMBERS of the Moira Slimming World group have completed a number of challenges set to help them lose weight and at the same time raise some money for Marie Curie Cancer Care which has a very special place in the heart of one of the group members.
The final, and most difficult challenge, was to scale the heights of Northern Ireland's tallest summit, Slieve Donard.
The challenge was set by their consultant Jill Ellis. She explained: "Early into the new year the members of my group were talking about exercise and their lack of motivation to get up and do something. We all know that exercise will help us lose an extra 12 to 24Jbs a year and that it's great for our general health to be fit and active.
"I thought it would be good to try to do something as a group to help with general motivation, and decided to set a number of walking challenges. Everybody has a different level of fitness and all of our goals are different so I wanted to have a challenge on a number of levels, members could choose to do one of the walks, two or all three if they wanted to. I had climbed Slieve Donard as a teenager and had always wanted to do it again but never made the time, so from that thought our challenge evolved."
One of the team, Grizel Turkington, had reason to celebrate her achievement more than most. Grizel lost a son at the age of 35 to cancer and for the last weeks of his life the Marie Curie nurses were an invaluable help to the family.
She said: 'After I lost my son, I was so appreciative of the help given to our family by the Marie Curie nurses. I always wanted to do a fund raiser for this great organisation and the Slimming World challenge was the perfect opportunity. A lot of my family, friends and my son's friends have sponsored me and the other members of our group in Moira decided to join my cause with their fundraising to and have boosted my funds by some £333.
"The support has been fantastic and although the challenge was tough, it was also great fun, friendships have been formed and in group the support and encouragement has been fantastic. Not only have I completed the fund raiser that I really wanted to do, but I have managed to lose 1st 13lbs so far."
Ulster Star
03/09/2010