MIDWIFE UNIT SET TO OPEN IN NEW YEAR
FEBRUARY DATE ANNOUNCED FOR NEW HOSPITAL FACILITY
by JULIE ANN SPENCE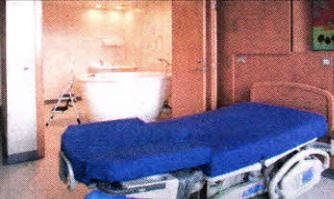 THE new Midwifery led unit at Lagan Valley Hospital will open in February next year.
The upgraded unit will be modelled on the Home from Home unit at the Ulster Maternity, currently featured on the television programme 'Special Deliveries'.
It will be a four bedded facility with each of the four single rooms will have its own en suite facilities and three will have a birthing pool.
The transfer from a consultant led inpatient service to the midwifery led service has been planned for some time. Many of the 1200 women who give birth each year at Lagan Valley Hospital will be suitable to give birth in the Midwifery led unit. However those women who require or choose to give birth in a consuiteant led unit have the option of going to the Ulster, the Royal Jubilee or Craigavon Hospital to have their babies.
Consultants from the South Eastern Trust and the Belfast Trust along with midwives will provide a full range of antenatal services in Lagan Valley Hospital assuring local access to a range of services for woman.
Assistant Director of Women and Acute Child Health Eileen McEneaney said: "We are conftdent that, like other Midwifery Led Units in the region, this unit will provide a positive and pleasant experience, promoting normality in Childbirth.
"Letters have been sent to all women who have booked to give birth in Lagan Valley on or after January 18, 2011 outlining their options and offering an opportunity to access advice and discuss their future care. "We are delighted that women who choose and are suitable to deliver in Lagan Valley can continue to do so."

Lagan Valley MP Jeffrey Donaldson welcomed the news but acknowledged there was still disappointment that consultant-led maternity services were not being retained.
"Obviously there will be mixed feelings about this announcement by the Trust as it marks the end of an era at the hospital in terms of the consultant-led maternity unit but I welcome the fact that we are now to have a midwife-led unit established at the hospital which will provide continuity for maternity services in the Lisburn area for mothers who expect to use this service in the future.
"I hope that the Lagan Valley will continue to be the location for many births for the local community," he continued. "I have no doubt the midwives who will lead the new maternity service will bring the highest professional standards to it."
The unit opens on February 2, 2011.
julieann.spence@ulsterstar.co.uk
Ulster Star
24/09/2010