New £3.6 million operating theatres for Lagan Valley Hospital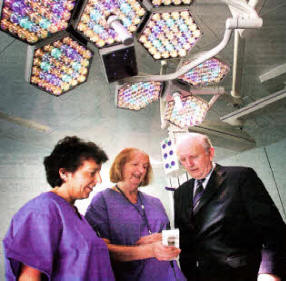 (1-R) Ruby Sloan, Theatre Sister, Anne Bramill, Theatre Sister and Health Minister Michael McGimpsey.
HEALTH Minister Michael McGimpsey visited the Lagan Valley Hospital last Thursday (September 16) for the official hand over of two new operating theatres.
The £3.6 million theatres offer a gold standard in operating rooms, working within a completely sealed unit. The theatres' powder-coated stainless steel walls incorporate the anti-bacterial qualities of silver to inhibit bacteria in the theatre.
"It's impressive to see these two new operating theatres, which offer a gold standard in operating rooms with the latest state of the art technology providing flexibility, efficiency and functionality," said Mr McGimpsey. "They will deal with the increasing demand for a wide range of elective operations including general surgery, gynaecology and ophthalmology. "Modernising our hospital system is not about centralisation or the belief that 'bigger is best' - it's about getting the best fit of services designed around the patient. These new operating theatres will carry out over 5,000 operations each year ensuring a continued ftrst class, safe and effective heaiteh service for the people in this area."
Lagan Valley Hospital will be developed as a protective elective centre for the Greater Belfast Area, which will enable planned elective surgery to be conducted without interruption from emergency cases.
Highlighting his commitment to continue to fight for money despite impending budget cuts, the Minister continued: "The new theatres represent a substantial investment in the future of Lagan Valley Hospital and will help the hospital in realising its potential as a local hospital serving the people of Lisburn. Despite forced budget cuts and huge financial pressures, these new theatres are a vital facility for the South East region."
Lagan Valley MLA Trevor Lunn has welcomed news of the opening of two new operating theatres. "Lagan Valley Hospital provides an excellent and highly valued service to all the people in the area and the news of the opening of these two new operating theatres is very welcome," said Mr Lunn.
"This is a vote of confidence in the future of the hospital which may allay the fears of those who continue to doubt the Department's long term intentions.
"This £3.6m investment indicates the importance of this hospital and I am very pleased these theatres have been created here."
julieann.spence@ulsterstar-co-uk
Ulster Star
24/09/2010