Whole community wins as new sports park opens at Ballinderry PS
by JENNY MONROE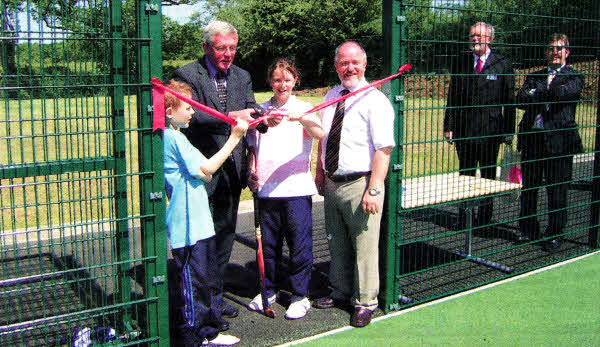 Stanton Sloan, Chief Executive SEELB and Mr Ian Thomson, Principal of Ballinderry PS, at the opening of the new sports park.
THE new sports park at Ballinderry Primary School has been officially opened.
Thanks to a grant of over £189,000 from the Big Lottery Fund's PE and Sports programme, pupils as well as the wider community now have the area's first all-weather sports area. "As the village's only polymer surfaced sports amenity, the Sports Park has transformed games and PE for our pupils — not to mention the scores of other local groups which use it after school time," said Ballinderry primary principal Ian Thomson.
This impressive enclosed pitch area was entirely funded by the Big Lottery Fund and means our children have two hours of PE a week rather than just one. It's great to hear the sound of laughter whenever you walk past now."
The state of the art facility has also made a major impact on local sports groups and incorporates an access ramp so those with disabilities can take part.
"Because it's a floodlit pitch local teams are queuing up to use it for practices and matches in the evenings, while at weekends it's proving a real hit for sports-themed birthday parties," said Mr Thomson. "We intend to get maximum use out of this excellent addition to our new
school premises. This pitch will pro- vide a first class sports arena for the school children and the local community" he added.
Walter Rader, the Big Lottery Fund's NI Director said: "I am delighted to be able to join staff and young people at Ballinderry Primary School as well as the wider community to launch this superb facility. I am sure that pupils, youth groups and the local community will enjoy the benefits of it. The National Lottery grant shows how investing money in sports facilities available to both schools and local people can transform the quality of life in communities."
Ulster Star
18/06/2010