Cancer Fund's `priceless support' that makes life more bearable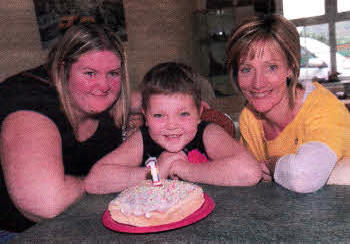 A DROMARA mother-of-two has said the help of a family support worker over the last 12 months has made her seven-year-old daughter's leukemia battle more bearable.
Julie-Anne Donnelly's daughter Alannah was diagnosed with cancer last September and was taken out of school to receive gruelling treatment sessions.
During that time the Donnelly family was appointed a support worker - Dromore woman Lynn Wilson - from the Northern Ireland Cancer Fund for Children. Now, just over a year after the scheme was introduced, Julie-Anne said the support and help she got from Lynn has been a source of strength for the whole family.
"She's been a great support," said Julie-Anne. "She did various things with Alannah including art and baking buns. When she came over it gave me a few hours to myself. As well as that she was a
great listener and I've really apprectated her being there when I've wanted or needed to talk to someone."
Now that Alannah is back at school and awaiting a bone marrow test later this month Lynn is finished working with the family. "I'm going to miss her," added Julie-Anne.
Lynn, who is one of only four such workers across Northern Ireland, offers individually-tailored support to families, incorporating a holistic package of care both at home and within the hospital setting, including one-to-one sessions, family work, constructive play and domestic help.
Lynn said her work is very rewarding. It is a privilege to be part of a team that delivers such a worthwhile service to families in turmoil following their child's cancer diagnosis," she said.
"For these families life as they know it ceases to be, and in many cases the family and the child themselves feel very isolated.
"The family support service offers a listening ear and tailor made support to families on a weekly basis during these anxious times. I consider it such a privilege to get to know these wonderful children and their families as I work alongside them.
"It is also a privilege to meet and work with the families as I go from being a virtual stranger when I first meet the family to becoming a friend whom they trust.
"Families are so grateful and just a few short hours means so much to them in restoring some level of normality to their home."
The family Support Service is available to families who have a child or young person up to and including the age of 24 years who has been diagnosed with cancer. For further information on the service visit www.nicfc.com or email angela@nicfc.com.
Julie-Anne Donnelly, Alannah Donnelly and family support worker Lynn Wilson enjoy a special cake celebrating the introduction of the support scheme by the Northern lreland Cancer Fund for Children.
Ulster Star
22/10/2010