Sorrow over sudden death
Much loved clergy wife Nichola dies in Bermuda
by JULIE ANN SPENCE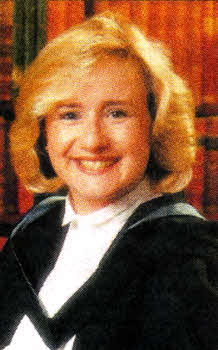 TRIBUTES have been paid to a well known Hillsborough woman who has died suddenly in Bermuda.
Mrs Nichola Lynas (50), nee Williamson, was the wife of Church of Ireland Minister the Rev Norman Lynas and passed away while swimming in Bermuda, where the couple had moved just before Christmas after Mr Lynas was appointed Dean of a cathedral there.
It is believed Mrs Lynas, a mother of two grown up sons, suffered a fatal heart attack.
Her mother Myra, who still lives in Hillsborough, had been out visiting the couple when the tragedy occurred.
Former Rector of Hillsborough Parish, the Very Rev John Dinnen, spoke warmly of the Williamson family, who he said were well loved in the village.
"Nichola grew up in a home and family where Christian faith was central to daily life and living'" he said. "Wherever home was the local church has the service and allegiance of the Williamson family."
He said not surprisingly, Nichola's mother Myra and late father Ted were very supportive when she became the wife of the Rev Lynas.
"Her parents were much loved and respected in the Hillsborough Church family and Nichola was a very committed clergy wife," Mr Dinnen continued. "Her home was always open to visitors and she was an active member of the Mothers Union and the Women's Institute."
The Curate of Hillsborough Parish, the Rev Michael Dornan, added: "She was a larger than life' very passionate lady who didn't do anything by halves."
Mr Lynas was first posted to St Columbas in Portadown, where the couple and their two sons Tristan and Adam, lived for five years before moving to Kilkenny when Mr Lynas was promoted to Dean of Ossory.
Cecil Allen, lay reader at St Columba's and a friend of the family, said her sudden death had both shocked and saddened parishioners who remembered her with great fondness.
He said: "From the day and hour she arrived in Portadown, she fitted in like a hand fits into a glove. She was a lovely, bubbly person, pleasant and happy. She was loved by all the parishioners and was also a highly principled Christian woman."
During their time in Kilkenny, Mrs Lynas worked as a speech and drama teacher in a local school.
The couple moved to Bermuda in December, and their sons stayed behind in Kilkenny, where Tristan works as a barrister and Adam in a bank.
A service was held in Bermuda this week and Mrs Lynas will be interred at St Malachy's Church, Hillsborough, next Wednesday at 2pm.
Ulster Star
23/07/2010