Teacher runs the Ulster Way to fund son's autism care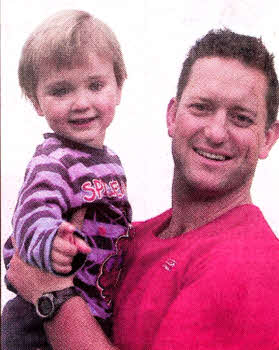 A FATHER-of-three will be running through Lisburn as part of a journey across Northern Ireland to fund help his son's autism care.
Sam Sinclair, a teacher at Bangor Grammar School, will join six collegaues running The Ulster Way' to raise £20,000 towards treatment for his three-year-old son Nick at Belfast's Centre for Early Autism Treatment (CEAT) therapy which is not available on the NHS.
The run spans 406 miles and will take just four days. It aims to raise awareness and funding for an autism therapy programme that has transformed Nick's life.
Sam and his team will be passing through Lisburn on the last day of the journey next Monday October 25, when he will be running 79 miles in a day.
In March this year Nick was diagnosed with autism and has since been receiving treatment from the CEAT programme, a one-to-one therapy session in the family home.
Preparing for the run which will begin on Friday, Sam said: "Before the programme Nick was completely with-drawn but now after just six months of therapy he loves to interact and play with the whole family.
"He is in our world again. He still has a long way to go, but the progress made in this short time has been incredible."
Ulster Star
22/10/2010