Alison to trek Grand Canyon in memory of her husband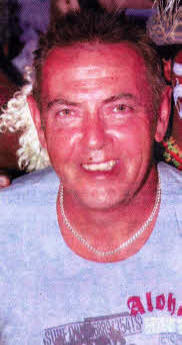 THE wife of a baker who died of cancer last year is to trek the Grand Canyon in his memory.
Alison Evans, from St Mark's Wood Lisburn will raise money for Marie Curie Cancer Hospice in memory of husband Nigel (Taff) aged 50 who died after a short battle with cancer on September 18, 2009.
Nigel, who worked at Country Kitchen, spent his last six days at the hospice, after he was diagnosed with liver cancer at the Royal Victoria Hospital.
He had been unwell for a few years and doctors could not pin point what was wrong. One day he collapsed onto the floor and was unable to get up at work and he rang his wife to come get him. She took him to the Royal Victoria Hospital where it was discovered he was suffering from liver cancer.
He spent six weeks battling the condition and the couple, who had first hoped to go to Disney World in Florida with their children, were forced to opt for a short break in Dublin. He was so poorly he spent three days lying on a settee.
When he returned he went to the Royal again and spent the last six days at the Marie Curie Hospice where he sadly passed away.
Alison's friend Anita Johnston from Moira described him as a devout family man who was a tireless worker.
"Both Nigel and Alison were both hard workers who were very devoted to their family," said Anita.
"Because of his shifts he could pick the children - Reece and Rhiannon - up from school and take Rhiannon to gymnastics. He really pushed their education and he would have been very proud of his daughter who got into Hunterhouse.
The last days that Nigel spent were at the Marie Curie Hospice, a place that Alison now holds dear to her heart.
"I spent every day with Alison during that time and the staff, who are volunteers at Marie Curie, were so good to Alison and nothing was ever a bother." In June Alison and her friends ran the Lisburn Marathon for Marie Curie. Taking part were Anita, Jenny Beers, Gloria Snodden, and Diane Montgomery
But now Alison plans to trek the Grand Canyon in May next year - a fundraising event for Marie Curie. She must raise £3050 and has organised a night at the Bog Road Social Club on Saturday, October 2 at 8pm. Tickets are £10.
For more information ring Alison 07809 123108. mary.magee@ulsterstar.co.uk
Ulster Star
01/10/2010