`Humbled' Porter becomes Lisburn's new First Citizen
by JULIE ANN SPENCE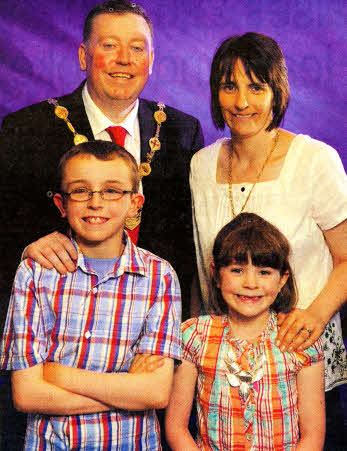 ALDERMAN Paul Porter has been elected as Lisburn's First Citizen.
He took over the chain of office from Councillor Allan Ewart at this week's Annual General Meeting of Lisburn City Council.
Mr Porter, who was first elected to the council to represent Lisburn South nine years ago, said he was looking forward to a busy year in office and aims to make recognising the work of local volunteers and the strengthening of the relationship between the city and the armed forces his priorities.
Becoming Lisburn's First Citizen was not something Mr Porter had ever imagined when he first entered politics but he has said both he and his family are humbled and honoured to accept the position.
When I first put my name forward for election nine years ago I did it somewhat hesitantly, not knowing what challenges lay ahead," explained Mr Porter.
"It is great to be in the council and to be able to, come alongside people when they have difficulties and to try to resolve issues for them.
"When I entered Lisburn City Council nine years ago I can honestly say that being First Citizen of this great city was not something I expected. It is a great honour and privilege, not just for me but for my wife Nicola and two children Joshua and Hollie."
Mr Porter, who has served as Chairman of the Lisburn District Policing Partnership, Chairman of the Council's Environmental Services Committee and Chairman of the Housing Liaison Committee, has chosen the Carers Forum as his Charity for the year.
Mr Porter has been heavily involved with the Forum, which works to ensure better facilities for the learning disabled in Lisburn, for many years. "It was a difficuite task to chose a charity as there are so many worthy causes'" he said. "I have had the privilege of working with memners of the Carers Forum over the last nine years and I hope we will raise a lot of money for them, even in these difficult times, so they can help aduites with learning disabilities in the area."
Mr Porter paid tribute to his predecessor, Cllr Allan Ewart, commending him for his successful year in office and added: "I know these are difficuite times for our citizens but as Mayor I will continue to drive forward an agenda of quality services at the lowest rates we can possibly deliver."
julieann.spence@ulsterstar.co.uk
Ulster Star
25/06/2010