Paula is Ulster Champion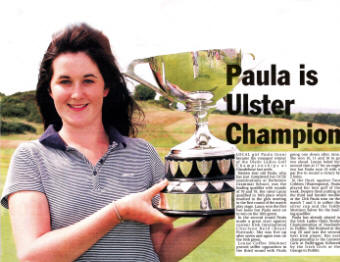 LOCAL girl Paula Grant became the youngest winner of the Ulster Ladies Golf Championships at Clandeboye last week.
Sixteen year old Paula, who has just completed her GCSE examinations at Rathmore Grammar School, was the leading qualifier with rounds of 76 and 78. Her sister Laura qualified in 16th place which resulted in the girls meeting in the first round of the match play stage. Laura won the first two holes but Paula went on to win on the 16th green.
In the second round Paula made a great start against current Irish International Charlene Reid (Royal Portrush). She was five up after seven and again won on the 16th green.
Louise Coffee (Malone) proved stiffer opposition in the third round with Paula going one down after nine. She won 10, 11 and 16 to go two ahead. Louise holed her second shot at 17 for an eagle two but Paula won 18 with a par five to record a victory by 2 holes.
In the final, against Tara Cribben (Warrenpoint), Paula played her best golf of the week. Despite three putting at the third and bunker trouble at the 12th Paula won on the match 7 and 5 to collect the silver cup and the Teddy Morrison Salver for the leading qualifier.
Paula has already played in the Irish Ladies Open Stroke Championships at Newlands in Dublin. She finished in the top 20 and was the second best Irish player. Her next championship is the Leinster Girls at Balbriggan followed by the Irish Girls at the Grange in Dublin.
Ulster Star
09/07/2010