Purple turnip festival returns with fun for the entire family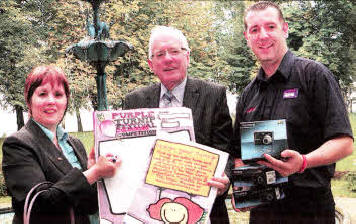 LISBURN City Centre Management will be working with partners across the City again this autumn to provide events and activities for all the family in Lisburn's Purple Turnip Festival.
The Festival brings together a num- ber of events across the City including community art being cre- ated in a number of youth groups.
Activities start this Saturday, October 23, with autumn performers entertaining shoppers in Bow Street and a "free drop in" art workshop in 35-37 Market Square from 10am- 4pm. Young people have the chance to create and colour their own turnip character over the next two weeks before seeing it displayed in the City Centre with prizes sponsored by Currys Megastore and at the end of the festival Castle Gardens will host an Enchanted Food and Garden Market on 6 November with lots of activities for all the family.
Councillor Allan Ewart, Chairman of Lisburn City Centre Management, said: "The drawing competition, whose winners will be announced at the Enchanted Food and Garden Market on November 6, provides kids with something a little different to get creative with."
Councillor Jenny Palmer, Chairman ofthe Economic Development Committee, added: "These events are sure to attract people to the City to enjoy these activities and everything else our City Centre has to offer. It is particularly good to see how a vacant shop unit, 35-37 Market Square, can be transformed into a vibrant community space with free arts and craft workshops this Saturday from 10am-4pm and a weeklong gallery displaying the drawing competition entries and creative community art from the youth clubs."
Drawing competition entry forms have been circulated to local primary schools and are also available to be picked up at various retailers, at the Tourist Information Centre, Irish Linen Centre and Lisburn City Centre Management at 45-47 Market Square. For more information log onto www.lisburnccm.co.uk or simply turn-up to for a great day out.
Ulster Star
22/10/2010