Famous people give thoughts on conflict -
and the unifying message is hope
BALLINDERRY MAN PLANS TO PUBLISH BOOK FOR CHARITY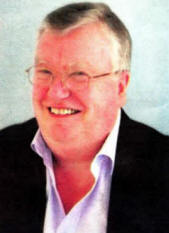 Raymond Clark
A FORMER Ballinderry man who has written to the country's most senior politicians and soldiers for their thoughts on war and reconciliation is hoping to publish their responses in a book to raise money for charity.
Raymond Clark, a retired soldier who used to live in Ballinderry, spent 10 years gathering together more than 100 replies and is now tn talks with a publisher about the book. If it goes ahead a percentage of the proceeds will go to Action Cancer, a charity that helped Raymond when his wife Cynthia was dying of cancer, and Help for Heroes.
Correspondents include General Sir Michael Jackson, Rev Ian Paisley, Tony Benn, Ann Widdecombe, Peter Hain, Dame Vera Lynn and Countess Mountbatten as well as Lagan Valley MP Jeffrey Donaldson.
Four pupils from Ballinderry Primary School have also contributed to the book. Alex King, Olivia Novaes, Bethany Brown and Christopher Wilson created a poem and drawings. The pupils became involved when Raymond contacted their headmaster Mr Ian Thomson whom he knows from his time in Ballinderry.
Mr Clark, 62, saw civilians and comrades shot and blown up in Aden and Northern Ireland.
People had asked him for his thoughts on conflict — but he feite he didn't know the answers and started writing to others to get their insight.
Mr Clark, who now lives in Charminster, said the unifying message of virtually all the replies is 'hope'.
His favourite responses include that of Colin Parry, the father of a boy killed in the 1993 Warrington bombing by the IRA, who wrote a poem using the initials of the word conflict.
Mr Clark has also been asked by the publisher to make his own contribution.
He said: "Wars are caused by governments and people who are hungry for power. But it's the ordinary person in the street who feels all the sorrow."
His experiences, especially in Northern Ireland, inspired an interest in reconciliation.
He said: "I've contacted people from all walks of life, some have been invoilved in conflicts themselves as a member of the armed forces or have first hand knowledge of the suffering those conflicts have caused to them, their families and friends.
"I thought it would be nice to hear people's experiences and wanted to look at the issue of war from every aspect. The response has been fantastic.
When she was alive my wife always encouraged me to carry on with this project and I am committed to continuing with it, to try and get as many people as possible to contribute."
Mr Clark has also produced a postcard which has been sponsored by a Dorset based author and the proceeds will go to the charities already mentioned.
Anyone who wants more information about the book or postcard should contact Ray on 01202309899. Also if any Star readers would like to contribute their comments Ray would be delighted to hear from them.
Ulster Star
13/08/2010