Get your antlers on for the big Reindeer Run in lisburn
by STACEY HEANEY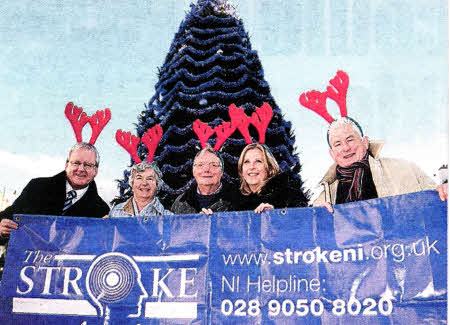 Tom Richardson Director Stroke Association Northern Ireland, Daphne Gilmore, Vernon Gilmore, Janice Kirkpatrick and Jim Curry of Stroke Association Northern Ireland in front of Lisburn City Council Christmas Tree launching the Reindeer Run. US4710.105A0
LOCAL people are being urged to get into the spirit of the Christmas season by running or walking through Lisburn - dressed as a Reindeer!
The Stroke Association NI will be holding their inaugural 'Reindeer Runs' in the Lisburn area next month.
Locals of all anilities are encouraged to evoke their inner Rudolph, with two events planned for the Lisburn area.
The first, in Lisburn City Centre , will take place on Thursday December 9.
The 2km Run or Walk will be set amidst the Christmas lights, and with the event starting at 6pm, participants will also be able to enjoy the buzz of late night shopping. The event is suitable for everyone from experienced runners to families out for a stroll.
A 5 kilometer Reindeer Run & Ramble around Hillsborough Forest Lake, will then take place at 2pm on Saturday December 11.
At both events participants are being encouraged to wear antlers, with all supporters receiving a special event medal.
Peter McCabe from The Stroke Association commented: "These festive events - accessible to people of all abilities - are a great opportunity to get out and have some light-hearted fun in the lead up to Christmas.
"Registration is £10 per person, with all monies raised helping local stroke survivors, their carers and families."
There is no minimum sponsorship for the event. For more information, or to register, you can visit www.stroke.org.uk/retndeer, or email eventsni@stroke.org.uk or telephone 028 9050 8053.
stacey.heaney@ulsterstar.coluk
Ulster Star
26/11/2010