Outstanding service to the community is recognised
by Rotary honour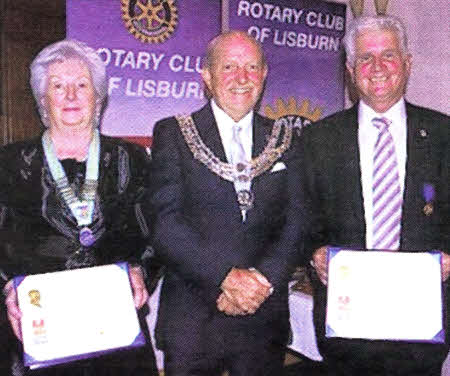 The Paul Harris Fellowships are presented to Norma Coggins and Billy Rogan by outgoing president of the Rotary Club of Lisburn, John Mcllroy.
TWO people have been awarded the Rotary movement's highest honour in recognition of their outstanding contribution to the local community
The Paul Harris Fellowships were conferred by the Rotary Club of Lisburn on Norma Coggins and Billy Rogan during the clubs President's Night in Malone Golf Club.
Past president of the Lisburn club Liam McCartney said Mrs. Coggins, the wife of Harry Goggins, who was a member of the Rotary club for many years until his untimely death from heart disease at the age of 59, has served as President of the Lisburn Inner Wheel club on four separate occasions and this year has served as Chairman of District 16 — the island of Ireland.
It is a role that has taken her to all parts of Ireland, as well as to Scotland and Bournemouth.
Liam said a concert she organised in Stormont raised over £6,000 for Congenital Heart disease.
Norma is, among other things, a Director of Glenada in Newcastle, a board member and trustee of the YWCA of Ireland with special interest in the Y-club in Wallace Avenue, a volunteer in the LVH hospital shop, a very active member in Railway Street Presbyterian church and in the W.I.
Liam said he had the privilege of proposing Billy Rogan for membership of Rotary in 1997, since when he had served as club secretary and as President in the year 2007/8
He has been member of Dunmurry Golf Club for 40 years where, in addition to serving as club Captain in 1992/3, he was Honorary Secretary for 16 years and is now a Trustee of the club and an honorary member.
He served for 20 years as Honorary Treasurer of Christ Church Derriaghy and is currently Treasurer of Upper Falls Parish Church and an auditor for both parishes.
Billy has been Chairman of Glenada Christian Conference centre for six years, and is currently a Trustee of the YWCA Corporation of Ireland where he is responsible for the property portfolio.
As well as being president of Lisburn Chamber of Commerce in 2000, Billy has acted as Director and Honorary Treasurer of both the Y Club and Stepping Stones as well as Director of Lisburn Commerce Against Crime and Lisburn City Centre.
The Fellowships were presented by the outgoing president of the Rotary Club of Lisburn, John Mcllroy.
Ulster Star
30/07/2010