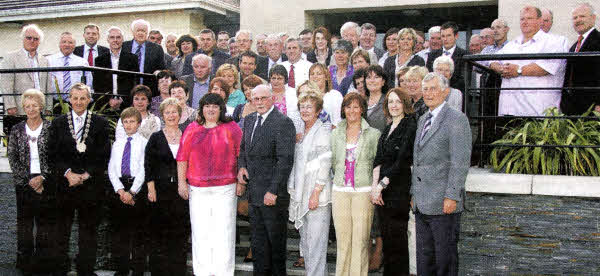 Saintfield Show President Dr. Jimmy McKelvey (right) and Chairman Mr. Jim Kirk (centre) with sponsors and friends at the Show Launch at Rockmount Golf Club.
65th anniversary for Saintfield Show
by AUDREY GREGG
SAINTFIELD SHOW Limited are looking forward to their 65th Annual Show on Saturday, June 19 at Mr. Jim Prentice s farm at Oughley Road, Saintfield.
There will be something there for everyone — a great family day out with a wide variety of livestock, poultry, horse and pony showing, working hunter classes, home industries, crafts, agricultural horses, a vintage tractor display, sheep, goats, donkeys, carriage driving, show jumping, trade stands, miniature horses and a dog show aimed at family pets.
Saintfield Show is delighted that the Cattle Section promises to have a really good turnout this year. There will be classes for a wide variety of breeds both native and continental and a good selection in the Minority and Rare Breeds Classes. Saintfield is a qualifying show for the Tesco Cattle Derby, the final of which takes place at Gosford on September 4.
The showjumping promises to be a huge success attracting our usual massive entry. This year the showjumping section is being masterminded by well known local horseman Lawrence Patterson. There are classes which are aimed very much at the novice horse and pony rider as well as a selection for the more experienced rider. The agricultural horses and traditional breeds of poultry and sheep give a real feel of how the countryside was many decades ago and just to wander about the show fields stopping here and there is the perfect antidote to our overly busy technologically overloaded lives.
The interest in poultry keeping in Northern Ireland is increasing year by year and there are now poultry fairs at least monthly throughout the country. At Saintfield Show this is one of the highlights of the calendar for poultry and fowl keepers — a real showcase for the enthusiast and a chance for us all to see these fascinating birds.
Opportunities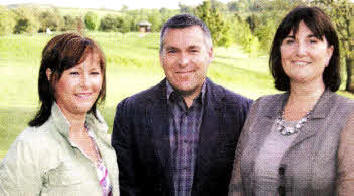 There will be plenty of opportunities for refreshment and nourishment in many different forms along the way.
The Horse and Pony classes cover a multitude of breeds and types and the horse lover will definitely find something to catch their eye. The Working Hunter classes are held on some lovely undulating ground which is absolutely appropriate given their jumping skills and consequently the organisers look forward to a big turnout to compete over the beautifully constructed natural type obstacles.
The Miniature Horses and donkeys will be in the Main Show field this year and are sure to be a big attraction. There will be plenty of parents going home with pleading children after seeing these.
All in all this will be a great country day out and Saintfield Show Limited look forward to welcoming exhibitor and spectator alike.
Ulster Star
11/06/2010