Neighbours star performs at St Patrick's Academy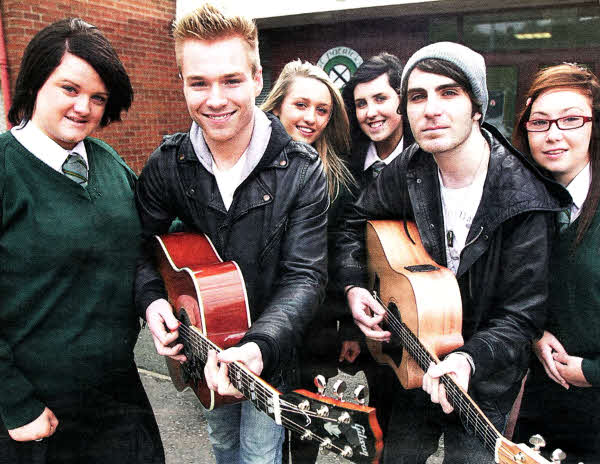 Danielle Graham, Natasha Loughran, Rachel Gourley and Catherine Dunleavey with Australian singer Sam Clark (who played Ringo Brown in Neighbours) and guitarist Peter Vlanes, who are currently touring Northern lreland. Sam met pupils from St Patrick's Academy, performing for the whole school, taking part in a Q&A session and signing autographs. Sam has twice topped the Australian music charts with the singles Broken and Devastated. US381O-514cd
NEIGHBOURS star Sam Clark, who plays Ringo Brown in the Australian TV show, recently visited Lisburn and surprised pupils and staff at St Patrick's Academy when he dropped in at the school.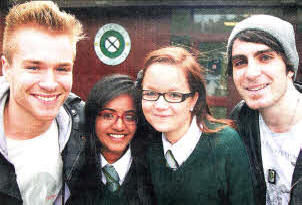 The actor has played Ringo since 2006 but quit to pursue his dreams of a music career. When at the school last Friday Sam performed his new single 'Devastated' in the Assembly Hall. Afterwards he spent time talking to pupils and signing autographs. Sam will be visiting a number of schools during his promotional tour of Ireland and the UK. He described his decision to leave Neighnours as "one of the hardest" the has ever made. "It was one of the hardest decisions in my life. Neighbours is my first acting job. It's very hard as an actor to find full-time work. To give up that opportunity and say goodbye to my first acting job and all the friends Tve made was very difficult."
He went on: "But at the same time I've been working on music for a very long time now and it was getting too hard to fit the two together and do them to the level I wanted. I feel as though the decision is right but that doesn't make it any easier."
After his performance at St Patrick's he said that he hopes viewers wiIl remember his character for years to come: Although he remained tight-lipped about the details of Ringo's exit, he said: "What I can say is that I was given a decent send-off from the show. Hopefully he will be a character who is remembered for years to come. That would be really nice."
When his character Ringo and bride-to-be Donna walk up the aisle later this month it won't just be to any soundtrack as a tribute to Scott and Charlene's iconic wedding, the couple's big day - to be screened during the week of Neighbours' 6000th episode (Channel Five, from Monday October 11) - will feature Sam's take on the Angry Anderson track, 'Suddenly'. To celebrate, Sam will at the same time be releasing the song in the UK as a double Aside with his Australian chart-topping smash Devastated.
Ulster Star
01/10/2010