Budding young filmmaker scoops top prize
SAM HIGHLIGHTS LACK OF PLAY FACILITIES FOR YOUNG PEOPLE IN LISBURN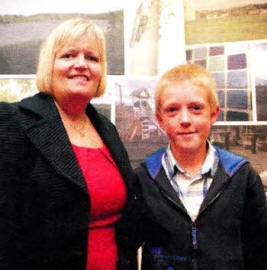 BUDDING local film-maker Sam Madden has scooped the top short film prize in a recent competition run by the Northern Ireland Commissioner for Children and Young People by highlighting the lack of play facilities in Lisburn.
Sam, 14, a student at Wallace HS, was one of three young people to be honoured for their work.
The Lisburn teenager submitted a video entry to portray the problems surrounding play facilities in the city.
Sam filmed himself and his friends playing in their gardens and on the roads in Lisburn, highlighting the need for somewhere safe to play. The judges felt it was a well produced video which conveyed the problems of play and leisure in his area.
"There are not very many places to play football where I live, which is why I wanted to make a video highlighting this," explained Sam. "I used lots of clips of people playing football in their garden or on the road' but wanted to get across that we need a better playing field near where we live.
"I thought the other videos would probably win, but I'm really happy that I won. If I get a chance I am going to make more videos in my spare time as I really enjoy it."
Joseph Fitzpatrick from the Divis Youth Project was awarded the top prize for his photograph and Gerard Murphy, a member of Belfast Computer Clubhouse, picked up a special award for the technical skill behind his photograph.
The awards, which were presented by Children's Commissioner Patricia Lewsley, are the culmination of a competition launched last summer, appealing for children and young people from across Northern Ireland to show the Commissioner what is good of bad about play where they live.
The photographs and videos submitted have helped N1CCY tell Government want it needs to do to make play and leisure better for all children and young people in Northern Ireland, as part of the ongoing Make it Right campaign.
jujleann.spence@ulsterstar.co.uk
Ulster Star
02/07/2010