Lisburn art student helps create mosaic murals for hospitals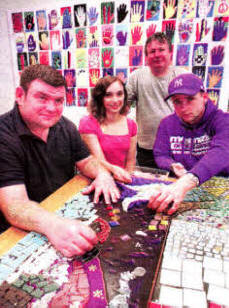 ARTS Care artist in residence for the Down/Lisburn area Colin McGookin has just completed mosaic murals in local hospitals with the help of young Lisburn artist Sandra Robinson.
Sandra, who has just finished her Bachelor of Arts Fine Art degree at the University of Ulster and has now been accepted to be a Master of Fine Arts student at the Royal College of Art in London, volunteered to assist in this latest Arts Care project at the Lagan Valley in Lisburn and the Downe in Downpatrick.
The project was to be a series of mosaics made with service users and staff of the Psychiatry Departments and to be sited in the gardens and corridors of the hospitals.
Colin said: "Following on from our success with a series of painted murals recently installed in the Lagan Valley and Downe Hospitals there was a demand for some new panels to adorn other parts of the buildings.
"I wanted to train as many service users and staff as possible in the exciting and visually splendid artform of mosaic by creating a series of small to medium images for both indoor and outdoor settings. Having a talented artist like Sandra assist us was a most welcome addition to our team and she really helped with generating new ideas and injecting a hardworking and enthusiastic mood to our sessions. We now have more than a dozen dazzling new mosaic panels ready to install in the hospitals."
Sandra said:"Working alongside Colin as part of the Arts Care team has been an emotionally rewarding experience, whilst also giving me a clear introduction into working alongside service users and supporting a workshop environment.
"It has been a pleasure seeing first hand just how beneficial the work that Colin, the Health and Social Care workers and Occupational Therapists do in promoting well being, confidence and social interaction within the service users environment."
Ulster Star
27/08/2010