Lisburn woman launches second children's book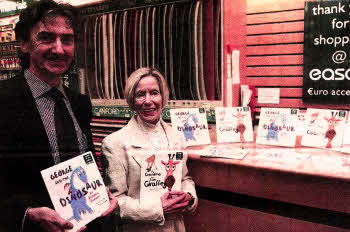 Dominic Tolan, Book Manager of Easons Bow Street, pictured with author Sandra Vanner whose book 'George and the Dinosaur' is on sale in the shop. US4910-121A0
LISBURN woman Sandra Vanner was thrilled this week when her second children's book went on sale. The latest book, entitled 'George and the Dinosaur', looks set to enjoy the same success as her debut book 'My Grandma has Two Giraffes', which sold out in local bookshops when it went on sale earlier this year.
'George and the Dinosaur', which is illustrated by Martin Kenny, tells the story of George and his mother who enjoy a surprise picnic with a dinosaur. Sandra was born in Ballymacash and attended Ballymacash and William Foote Primary Schools before moving on to Lisburn Technical College where she acquired secretarial skills.
She spent seven years living in Princeton, New Jersey after leaving Lisburn at 18 before returning to Northern Ireland, marrying in 1970 and raising her family in the city.
While her two boys were growing up she worked in temporary jobs. Payments received from publishers for her short stories helped to supplement her income and fuel her passion for writing.
The avid reader, one of ten children, said her love of books was instilled in her as a child. She was thrilled to see her work go on sale in her home city.
'George and the Dinosaur' is on sale now from Easons in Bow Street.
Ulster Star
31/12/2010