Sarah goes to church in her PJs - and not because she slept in Sarah's unusual way to raise funds for MS Society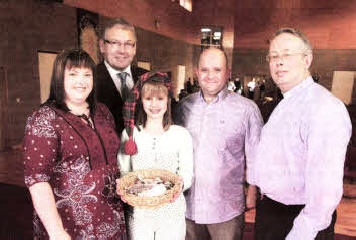 A LOCAL girl had her own version of 'Sunday Best' last weekend when she wore her pyjamas to church to raise money for charity.
Sarah Crawford attended the service at Trinity Methodist Church in Lisburn on October 17 in full sleepwear to fundraise for the Multiple Sclerosis Society in Northern Ireland.
Sarah's dad is one of the 4,000 MS sufferers in Northern Ireland and was the inspiration behind her novel fundraising idea.
Using the donation website www.justgiving.com, Sarah set up an online fundraising point to raise awareness about the issue and what she was doing to support the society.
She explained how the MS Society is close to her heart and how she came
up with the fun fundraiser:
"I did not want to do anything extravagant like shaving all my hair off or jumping off the Empire State Building, so I have settled with wearing my pyjamas to church" she said.
Sixteen year old Sarah has raised £400 so far and church goers were more than happy to support her collection on the day. Well-wishers can still donate to the MS Society in support of Sarah by visiting https://www.justgiving.com/sarahspyjamas.
The MS society receives no government funding and relies on community help and dedicated fundraisers like Sarah to continue providing support and services to people affected ny the central nervous system condition.
Ulster Star
22/10/2010