Lisburn pupils have a blooming great way to
help save children from polio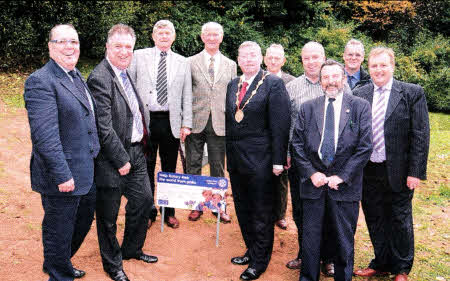 The Mayor Alderman Paul Porter and the President of the Rotary Club of Lisburn with Rotary members and council officers at the launch of the Focus on the Crocus flowerbed. Pic by JIM MATCHETT
LISBURN pupils and students are being urged to help the children of the world to eradicate the crippling killer disease polio by holding fundraisers and planting purple crocus bulbs. It's the second year of the Thanks for Life campaign and members of the Rotary Club of Lisburn are joining forces with local schools in an effort to win the battle against this crippling, and often fatal, disease.
This year, the drive is on to raise even more money and plant as many giant purple crocus bulbs as possible all across Great Britain and Ireland. Thanks to a partnership with the International Flower Bulb Centre's Big Bulb Plant campaign, www.thebigbulbplant.com, Rotary is inviting everyone to dirty their hands by planting bulbs this autumn so they are in flower during February when Thanks for Life will reach its peak. The colour denotes the purple dye used to mark a child's finger to indicate they have been immunised against polio.
The bulb planting will give the Lisburn pupils an opportunity to be involved in many fun activities that will also help towards finally eradicating polio.
The initiative is part of Rotary's national Thanks for Life campaign involving thousands of Rotary members across Great Britain and Ireland linking up with schools, colleges, businesses, organisations and individuals to hold a series of fund-raising events to better a £1 million target by Thanks For Life - Rotary Day, Wednesday, February 23, 2011 (Rotary's 106th birthday). The Rotary Club of Lisburn, together with Lisburn City Council have planted crocuses in the shape of the Rotary symbol on a site adjacent to Central School on Governor's Road.
Lisburn Rotary Foundation chairman Gary Corkin said The council, especially Roy Hanna and Mark Gregg from the Parks Department, have been very supportive of Rotary in this scheme, and we have availed of their expertise in the preparation and planting out of the Rotary wheel. It is great to be able to work with the council in community projects"
Rotary member Mervyn Shannon added The council have also committed to a maintenance programme over the next few years which is fantastic".
The crocuses will be in full bloom on Rotary Week - 21st to 26th February, when Lisburn Rotary Club, together with a number of local schools, will be running "Thanks for Life - End Polio Now" fundraising week.
The club President Trevor Stewart said: "We want as many people as possible to be involved and I would ask schools to get in touch with us. This is a great way for our children to learn about dangers facing children in other parts of the world and to help those less fortunate than themselves.
"When you see children who can't even stand up - never mind run and play - it really brings it home. Rotary has been involved in this fight for more than 25 years and the world is now tantalisingly close to eradicating polio for good thanks to the joint hard work of organisations and governments. It's a unique opportunity for a child to join the fight and be able to say, 'I helped to eradicate a disease completely. Not only did I prevent children from dying or being maimed - I helped change the world'.
Interested schools are encouraged to contact Gary Corkin (e-mail garycorkin@aol.com) or visit www.ribi.org/thanks-for-life.
Ulster Star
29/10/2010