Lisburn pupils bring a smile to children with cancer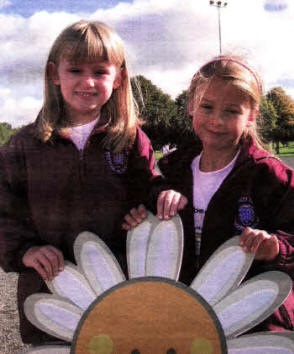 CHILDREN from local primary schools have helped to raise money for the Northern Ireland Cancer Fund for Children (NICFC) by taking part in the charity's Schools' Fun Day in Ormeau Park in Belfast.
Almost 1000 pupils from 16 primary schools joined in and were welcomed by the Lord Mayor of Belfast, Councillor Pat Convery, before completing a one mile walk through the park.
Afterwards they enjoyed a morning of fun and entertainment with face painting, balloon modelling, a drumming workshop and obstacle course.
Two Glentoran footballers, Darryl Fordyce and Johnny Taylor, were on hand to put the pupils through their paces as they took turns at penalties and playing mini football matches.
The theme for this year's Fun Day was 'Bring a Smile' with each school displaying a banner to represent the ethos of the school.
Rachel Burgoyne, NICFC Schools' Fundraiser commented: "The Fun Day was a fantastic success and am delighted by the number of pupils who attended. Everyone did indeed bring a smile and the pupils' enthusiasm was incredible. Their teachers spoke about how the children really enjoy fundraising for NICFC, so it was great to bring them altogether for a morning of fun activities.
"Every week in Northern Ireland another three children and young people are diagnosed wtth cancer which means that in any month up to 12 families may be in need of the charity's support."
The Northern Ireland Cancer Fund for Children thanked the event sponsor, Smythe Toy Superstores, and Translink for providing free transport for each of the schools.
For more information about the Northern Ireland Cancer Fun for Children's Schools' Fun Days or to donate money to the charity contact Rachel Burgoyne on 9080599 or email rachel@nicfc.com.
mary.magee@ulsterstar.co.uk
Ulster Star
15/10/2010