Second Cinemagic Lisburn festival gets set to roll
by JULIE ANN SPENCE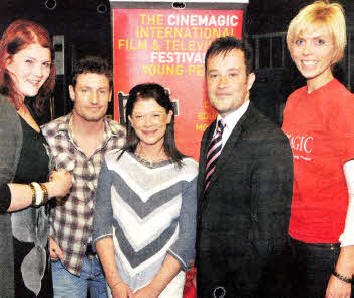 LISBURN City Council and Cinemagic are gearing up for a week long festival for schools and young people in Lisburn, which will takeplace from June 19- June 26.
The Belfast based film festival, which is celebrating its 20th Anniversary this year, delivered a very successful programme in Lisburn for the first time in 2009 and has an action packed series of events lined up for this year.
The opening of the festival is being marked with a special screening of Oscar nominated and award winning animated feature film The Secret of Kells, directed by Tomm Moore, at 6.30pm in Lisburn Omniplex on June 21.
Councillor David Archer, Chairman of the Leisure Services Committee said: The Council is proud to be funding its second Cinemagic Lisburn so that young people may be inspired to develop their talent and interest in this exciting and multifaceted business."
Joan Burney Keatings, Cinemagic Chief Executive said: "The programme offers a fantastic series of film screenings with discussions and workshops for primary and secondary schools such as stop motion animation, illustration for film and television, acting, and journalism."
Special events throughout the festival include a school film programme and workshops.
Local budding young film critics, aged 1018, also have the chance to watch and review a series of short films by participating in the Cinemagic Jury event on June 19 in Island Arts Centre. To register your interest in the jury email colm@cinemagic.org.uk or contact 9031 1900.The full programme of events can be downloaded from www.cinemagic.org.uk.
Representing Lisburn City Council as the main funder of 'Cinemagic Lisburn', Councillor Archer, Chairman, Leisure Services Committee is pictured with (l-r) actors Mikyla Dodd, Dean Gaffney, Hannah Waterman and Cinemagic Project Executive Laura Carlisle at Island Arts Centre, Lisburn on Friday May 28. The actors took time out from starring in the hit stage production of Calendar Girls to host a one day acting workshop, for 13-18 year olds interested in pursuing an acting career.
julieann.spence@ulsterstar.co.uk
Ulster Star
04/06/2010