Ain't no mountain high enough for Andrea and Taryn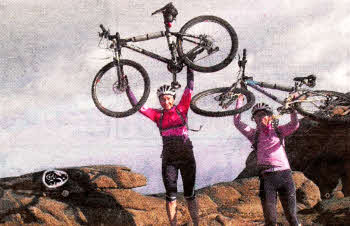 TWO women have been pushing themselves to the limit recently by taking on the highest peaks in Northern Ireland and England -on their mountain bikes.
Andrea Harrower from Dromara and Belfast woman Taryn McCoy, who are both members of Dromara Cycling Club, became the first women to complete both the 7 Sevens Challenge, reaching the summit of seven mountains in one day and to climb England's highest peak, Scafell Pike, with their mountain bikes.
Andrea and Taryn, who are both part of Bikedock Belles, a four-woman cycling and multi-sport team, decided to put their own spin on the 7 Sevens Challenge, an annual event held each August, by bringing their bikes with them, something which has only been done before by two male friends of the pair.
The local ladies reached the summit of the seven peaks of the Mourne Mountains; Slieve Meelbeg (708m), Slieve Meelmore (704m), Slieve Bearnagh (727m), Slieve Commedagh (765m), Slieve Donard, Northern Ireland's highest peak at 850m, Slieve Lamagan (704m) and Slieve Binnian (747m) on Sunday May 2 and not having had enough of a challenge, they then took on England s largest mountain Scafell Pike, which is 978m, last week.
Speaking after completing the 7 Sevens, Andrea commented: "It was quite an extreme endurance challenge, it has only been done by two guys before about three years ago. We thought about it last year and over the Bank Holiday we just decided to do it." Despite it being May, Andrea and Taryn found themselves bombarded by four seasons in one day.
Andrea "We looked at the forecast and thought it wasn't going to be too bad but it was atrocious at times up the mountain."
They started the day at 8.30am with sunny spells, only to then face rain, sleet, snow and hail as they made their way across the seven peaks, reaching the final summit at 7pm that night.
Andrea added: "We spent about two hours taking photos and chatting to people we met as we went along but it was a nice distraction and you have to savour something like that. Taryn had said we would have sore legs and sore stomachs by the end of the day from laughing so much and we did.
"There was a complete sense of satisfaction when we finished," she said.
Taryn added: "It was really tough and in parts it was so steep it was not rideable so we would have to carry the bike, but it was good fun."
Andrea and Taryn then took on England's highest peak, Scafell Pike last week.
Andrea commented: "We conquered England's highest peak -Scafell Pike - with our bikes, so having been the first female pair to do the 7 Sevens with our bikes, I guess we're the first female pair to do 7 Sevens and Scafell Pike, that only leaves Ben Nevis in Scotland and Snowdon in Wales!"
The Bikedock Belles are trying to encourage local women to start cycling and they organise regular cycles for females.
Taryn said: "It is really nice having a crowd of girls, we are girly enough to enjoy ourselves but we also like the adventure side. We organise a cycle and go for a coffee, it's great exercise and you don't have to be as extreme as us."
If you would like to find out more information about the Bikedock Belles you can visit their website at www.bikedockbelles.com.
stacey.heaney@ulsterstar.co.uk
Ulster Star
04/06/2010