Irreplaceable communion silverware stolen from church
Congregation left saddened by heft of 19th century records
by MARY MAGEE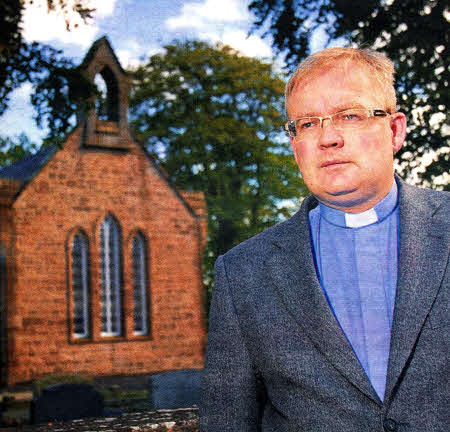 Rev David Pierce outside St John's Parish Church, Hlllsborough, which was robbed. US3810-569cd
THE RECTOR of St Johns Church in Upper Kilwarlin is offering a small reward to anyone who can give information that will lead to the recovery of irreplaceable communion silverware - some of which was presented to the church in 1841 by the Marquis of Downshire - stolen from the church a
fortnight ago.
This Sunday the church will have to borrow silverware for monthly communion.
Thieves broke into the rural church throughia a window sometime between Thursday September 16 and Friday September 17 and made off with a white safe which contained items including communion silver and death, marriage and birth certificates - some of which date back to the 19th century.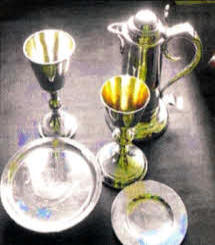 The rector, the Rev David Pierce, said the silverware and documents were not financially valuable but is of great spiritual signiftcance and is irreplaceable.
"Pieces were presented to the church in 1841 by the Marquis of Downshire including a flagon chalice and a paten" Rev Pierce explained.
"We have communion on a monthly basis and will have to borrow silverware from elsewhere this Sunday.
"That is a minor inconvenience, it is the spiritual significance that is much more important."
This is the second break in since Rev Pierce became rector ten years ago. He said the recent break in had left him and the congregation 'sad' and 'angry' that someone would be so disrespectful as to break into the church. "They did not ransack the church which seems to suggest that they knew exactly what they were looking for," he said.
"Two years ago they broke into the church and tried to get the safe but failed. This time they were more successful.
"We do not keep money in the safe, but the documents are really irreplaceable.
"This incident has left the whole congregation very upset because it is their place of worship and should be respected," he said
"I just do not know what kind of person would do that kind of thing. It is very sad."
Police said that two safes were found at a rural lane in Downpatrick. One is believed to have come from the church and was badly damaged. One of the two chalices has also been recovered along with some documents, but many of these were soaked through.
Anyone who can help the police with their investigation is asked to call the Police at Lisburn on 0845-6008000 or contact the Crimestoppers number which is 0800-555111 where information can be passed on anonymously.
Ulster Star
01/11/2010