Nicky about to find out if he could have been a contender
Journalist to take on six champs in one night
by JENNY MONROE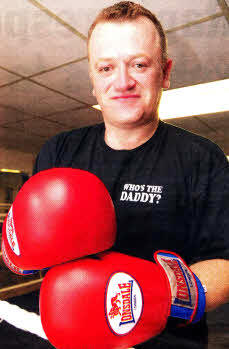 A BIG HEARTED, if slightly deluded, journalist is about to put his body on the line by taking on no fewer than six boxing superstars on one night to raise funds for a charity which is supported by a little Lisburn girl and her family.
Sasha and Mark Gillespie's daughter Hannah, 4, was born with the genetic disorder Fanconi Anaemia and they have been tirelessy fundraising for research into the condition.
And this Saturday the couple's friend, sports reporter Nicky Fullerton, will do six one minute rounds against six professional boxers in the Wellington Park Hotel.
The all star line up includes Paul McCloskey (European Light Weiteerweight Champion), Brian Magee (European Super Middleweight Champion), Martin Lindsay (British Featherweight Champion), Carl Frampton (Barry McGuigan's up and coming Super Bantamweight), Martin Rogan (former Commonwealth heavyweight champion) and Mr X a mystery boxer.
Fanconi Anaemia is a genetic disorder which in most cases involves birth defects such as thumb abnormalities, kidney and heart defects and leads to bone marrow failure. Fanconi Hope Charity has sponsored the first ever UK-based research into this.
Nicky, who has never stepped into a boxing ring in his life, said: "I could have picked six journeymen to face, but that would have been too easy. I instead decided to do six, one minute rounds on the one night. It seemed a good idea at the time."
While none of the six will be anticipating a difficult night, the Gillespies are thrilled and grateful for the support of the champions and Nicky.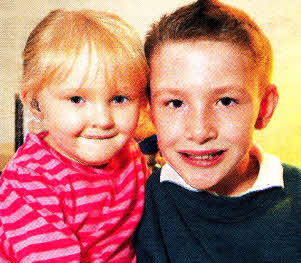 Little Hannah and her friend Brian Kerr from Moira, who also has the genetic disorder, will be guests of honour at the match although they will not be watching the men fight.
Sasha, a special needs teacher who is currently on a career break and expecting her third child, said: "Nicky has known Hannah since she was born and he wanted to do something to raise money for the charity. He knows Fanconi Hope is working really hard and making progress.
"I'd like to say a big thank you to him on behalf of my family."
Brian's mother Gaye said she and her sons are also looking forward to the event. She said: "It is fabulous what Sasha and Mark are doing for Fanconi Anaemia research and it will be amazing when someday we find a cure for our beautiful children.
"Hannah is a little princess and Brian is a prince, both children are an inspiration to everyone who meets them and Sasha, Mark and I as parents are so lucky to be parents to these remarkable children, who are loved by the world. It is through our children that we have become frim friends and are now family."
Tickets for the event cost just £10 and if you are interested in attending contact Nicky Fullerton at nicky.fullerton@newsletter.co.uk. If you would like to make a donation please visit https://www.justgiving.com/NickyFullerton.
Ulster Star
15/10/2010