'Sprucefield or nowhere'
John Lewis denies it has any plans to move store scheme to Ballymena
by JULIE ANN SPENCE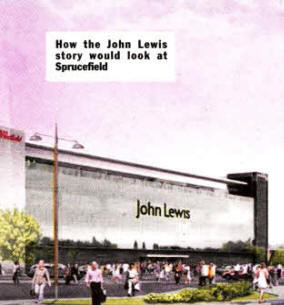 JOHN Lewis has strenuously denied rumours it is considering opening a store in Ballymena.
The company, which is still in the middle of the battle to secure planning permission for its proposed store at Sprucefield, has also insisted this is the only site they will consider for their first branch in Northern Ireland.
However, with major expansion plans for Ballymena's Tower Centre revealed this week, rumours had been circulating that the company was in line to be the new anchor tenant at the redeveloped shopping centre.
A spokesperson for John Lewis has categorically ruled out any plans to move the store to Ballymena and reiterated their commitment to the Sprucefield development.
"John Lewis is often linked to new retail led developments, however, we have no plans for Ballymena," the spokesperson said.
She added: "We remain firm in our belief that Sprucefield is the only location in Northern Ireland that is capable of supporting a full line John Lewis department store."
Securing planning permission for the Sprucefield store has proved to be a complicated process, with the public inquiry into the plans stalling twice in the last year.
In the latest twist the public inquiry, which had been rescheduled for June after stalling last November, was adjourned once again after opponents won the right to mount a legal challenge.
Rival traders claimed the Department of Environment should have placed newspaper adverts about the scheme.
The adverts have since been placed and the public inquiry has been rescheduled once again, this time for October.
julieann.spence@ulsterstar.co.uk
Ulster Star
30/07/2010