Unlucky St Pat's U12s lose out in Shield final
ST PATRICKS 1-3
ERlNS OWN CARGlN 2-4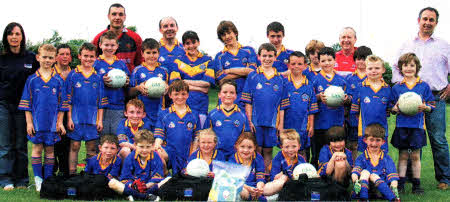 St. Patrick's GAC Lisburn offer Gaelic sports to all of the local community and currently has 200 members of which 150 of them are under the age of 18. The Club has 9 teams - under 6, under 8, under 10, under 12, under 14, under 16, under 18, senior and ladies. Lindsay Ford Lisburn takes great pleasure in supporting the St. Patrick's GAC. Lindsay Ford has donated first aid supplies to each team that are held in branded sports bags. These medical care supplies are a fantastic contribution to the club and Lindsay Ford's involvement is extremely appreciated by everyone at the club - coaches, players and parents alike. Receiving their new medical kits from Ryan Simpson, Lindsay Ford Lisburn Sales Manager and Briege Brennan, Lindsay Ford Lisburn Accounts, are Tomas Fay (Coach St. Patrick's GAC), Barry Marshall (Secretary St. Patrick's GAC), Michael Tennyson (Coach St- Patrick's GAC) and some of the St. Patrick's GAC players.
ST. Pats U-12s lost the South West Antrim shield final having dominated the match at different stages, at a very blustery Ahoghill ground. Their failure to take crucial scoring opportunities and to be more positive when in possession ultimately cost them a deserved victory.
In the opening minutes, the young St Pats boys made a nervous start allowing Cargin in for a very soft goal from a quick free kick. St Pats began to take control, gaining good possession and play good football. A number of frees were squandered in a difficuite cross wind. Eventually, David McNally pointed and this was followed by a pointed free by Peter O'Neill. Cargin took another point to leave the half time score 1-1 to 0-2.
In the second half, St Pats dominated for the majority of the half. The defence were outstanding with super performances from Conor Dixon, Regan Mc Canny, Philip Mulholland, Paul O'Hanlon, Jeremy Mc Elwee and Rory Flynn. They set up wave after wave of attack through super link play with Mark O'Hanlon and Conor Hall.
They began to take their scores with Mattie Fegan pointing and Peter Drayne scoring a goal. St Pats were now leading by 2. The team were playing very well, forcing Cargin into errors and turning over possession. Unfortunately vital possesion was wasted on a number of ocassions.
Cargin countered to score a goal and hemmed St Pats in defence for the last 5 minutes. Cargin's midfield finally gained the upper hand to score three points in a row to turn the game in their favour.
It proved to be a disappointing end for the young St Pats team, who played very well throughout the match. Their football was commended by the South West Chairman Leo Heatley and by the gracious Cargin coaches. Jamie Fraser, Conor Dixon, Paul O'Hanlon, Peter O'Neill, Mattie Fegan and Rory Flynn had their best games ever in a St. Pats jersey.
So a great season for this team, to have reached a final was a great success and augurs well for the continued success of the St. Patricks club.
Ulster Star
03/09/2010