And they said this would be a Mickey Mouse job...
Lisburn student jets off for work placement with Disney in Florida
by JENNY MONROE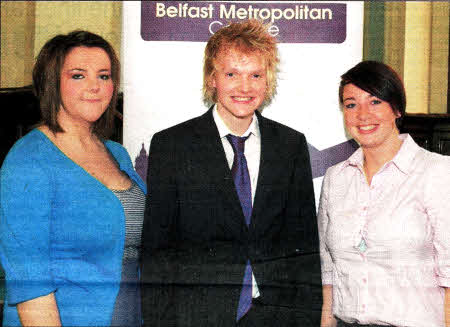 Belfast Metropolitan College students L to R — Jordan Wendy Lemon, Ryan Adair and Stacey Hepburn from Lisburn, prepare to travel to Walt Disney World Resort in Florida where they will participate in a six month work placement as part of their Foundation Degree in Travel and Tourism.
A LISBURN student is travelling to the Walt Disney World Resort in Orlando, Florida for the work experience opportunity of a lifetime.
Stacey Hepburn a Foundation Degree Travel and Tourism student at Belfast Metropolitan College won the much sought after place on the Disney International College Programme J-1 Academic Exchange. And to make it even better, Stacey was awarded a Belfast Metropolitan College Trust Scholarship to assist her with the costs, of this unique six month experience.
Each year there are over 2500 applications for Disney's International Programs. The gruelling selection process starts with a written application before being screened by London recruitment agency Yummy Jobs, the final interview is a face to face interview with the Disney. The successful students from Belfast Met will join students from universities and Colleges in the UK, Netherlands, Switzerland and Canada for the opportunity of a lifetime.
Stacey will be working with Yummy Jobs International at Disney on a six month work placement which will finish after the Christmas holiday season. The programme gives participants the chance to make friends from around the world while living in fully furnished apartment complexes in Orlando and they will also enjoy unlimited access to the Disney resorts in their free time. Aside from the Disney Experience they will be enrolled in the University of Central Michigan to complete a number of courses and will gain a qualification from the University.
Speaking before jetting off for the Disney experience Stacey said: "Disney is one of the most admired companies in the world but for me going to America is much more than just a work opportunity. I love to travel and meet new people and the J-I Academic Exchange also means that I can earn while I learn. It will be interesting to attend classes at the University of Michigan and experience college life in the US."
While at the Walt Disney World Resort students have the opportunity to develop real-world experience while working in front line roles at the theme parks and resorts. They will have the choice of working in hospitality, food and beverage service, entertainment, merchandise or attractions and will be able to add this unique experience at a world renowned company to their growing CV.
For further information on Travel and Tourism Management courses at Belfast Metropolitan College call 9026 5496 or visit www.belfastmet.ac.uk.
Ulster Star
20/08/2010