Family's tributes to their hero as soldier is laid to rest
`Tell people I was doing what I loved and also my duty for Queen and Country, Corporal Stephen Walker
by JULIE ANN SPENCE
| | |
| --- | --- |
| | |
| Corporal Walker's family including wife Leona, children Greer and Samuel, brother Ian and his family at the funeral in Kennoway, Scotland. | Corporal Stephen Walker's coffin is carried from St Kenneth's Parish Church. |
THE brother of Lisburn soldier Corporal Stephen Walker, who was killed in action in Afghanistan last month, has paid tribute to his 'hero' big brother.
Corporal Walker, known as Whiskey to his comrades, was killed in an explosion near Patrol Base Almas, in Sangin, Helmand province. He was conducting a joint foot patrol with the Afghan National Army at the time.
He was laid to rest last Friday (June 18) following a service at St Kenneth's Parish Church in Kennoway, Scotland, during which his wife Leona spoke of her heartbreak at the loss of her "soulmate".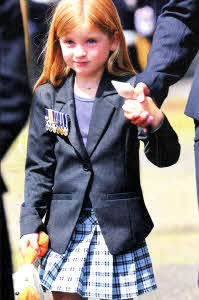 "We had what can only be described as a passionate, whirlwind romance, resulting in our secret wedding 14 years ago," she said.
"We had each found our soulmate, we connected and our love was, and is, undying. We shared 16 years together but we were meant to be together forever.
"We were, however, blessed with our gorgeous daughter, Greer, who could do no wrong in her daddy's eyes and I know that Steve will live on in her. At 9am on Friday, 21st May, 2010 my heart was broken with the unbelievable and gut wrenching news of Steve's untimely death; it will live with me for the rest of my life and my heart will remain broken."
The Rev Richard Baxter read out a statement from Cpl Walker's son Samuel which said: "He was so passionate about his work, his beliefs, but most of all his family and that's why I loved him."
His daughter Greer said in a statement: "My daddy was brave, loving and he was my hero. My daddy was my best friend in the world. When I first heard that daddy was dead I could not believe it."
After arriving home in Lisburn, Corporal Walker's brother Ian, spoke fondly about his older
brother and shared memories of their time growing up in the city.
"I have childhood memories of playing football together when we were at Tonagh Primary School'" said Ian. "I remember spending our 7p pocket money on sweets from the Candy Box and then we would walk home together.
"We were both big Rangers supporters and he was a big Northern Ireland fan as well. He always wore a Northern Ireland shirt and he was very proud of where he came from. He was proud to be from Lisburn. Lisburn was always his home.
"He was a smashing bloke, he was a fantastic brother and a fantastic uncle to Kyle and Ross, he was their hero. I am really, really proud of him."
Ian is in the process of organising a memorial service in Lisburn to allow local people to honour their fallen son. "I would like to thank everyone from Lisburn for their support over the last few weeks'" he added.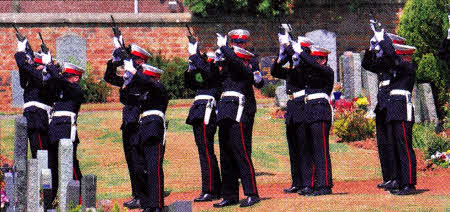 julieann.spence@ulsterstarco.uk
Ulster Star
25/06/2010