Suicide prevention booklet launched to stop the terrible toll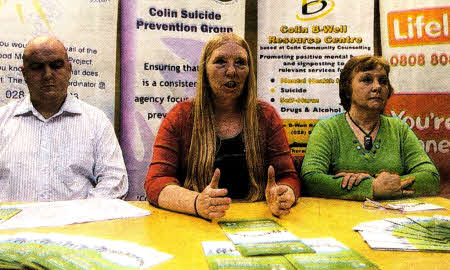 Keyin Baitey suictde preventton coordtnator with the South Eastern Trust, Annie Armstrong, Coltn Neighbourhood Partnership and Anne Mclarnon coordinator at Colin Community Counsetting taunching 'Too Precious to Lose". US4210-121A0
THE COLIN Neighbourhood Partnership has launched a suicide prevention booklet 'Colin Lives — Too Precious to Lose' in response to the rising number of suicides in the area.
The area has received much attention from the media and local politicians following the high number of suicides in Twinbrook, Poleglass and Lagmore.
In the last 10 years, 60 people have taken their lives in the area. Since March 2010 eight people have taken their lives, two of which have occurred in the past week.
'Colin Lives —Too Precious to Lose' contains information on suicide prevention services available in Northern Ireland. The publication also highlights who is most at risk of suicide and what people can do to protect themselves and others. It is hoped that the booklet will greatly assist those who are struggling with the issue of suicide. The booklet highlights the factors that may contribute to suicide and offers answers to commonly asked questions on the issue.
Speaking at the launch Kevin Bailey, the Suicide Prevention Co-ordinator at South Eastern Heaiteh and Social Care Trust, welcomed the booklet and said it is a much needed resource in the area.
"The new booklet will aid local residents' understanding of the complex issue of suicide, furthermore it will enable local residents to identify life-promoting activities that they can become involved in individually or via one of the many community support services identified in the booklet" he said.
The booklet is currently being distributed to all homes within the Cohn area. It is also available to download from the Cohn Neighbourhood Partnership website www.newcolin.com
Annie Armstrong, the Manager of Cohn Neighbourhood Partnership, urged everyone to read the booklet.
She said: "You may not think you need this information today but, unfortunately, some day possibly you or someone you know may and, therefore, I would ask that you cherish this book."
For more information on Colin Neighbourhood Partnership you can either visit the CNP website which is www.newcolin.com or you can telephone at 028 9062 3813.
Ulster Star
29/10/2010