New group brings hope to those touched by suicide
by JENNY MONROE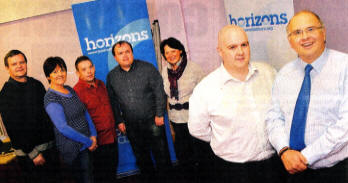 Brian Anderson (far right)- Chair of Horizons Lisburn with Kevin Bailey - Suicide Prevention Coordinator for South Eastern Trust and the committee members. US451O-350DW
LOCAL people have been invited to the official launch of a new suicide support group in Lisburn's Castle Gardens on Saturday evening.
Horizons, Bereaved by Suicide Support Group, provides a listening ear, information and encouragement to those touched by suicide in the greater Lisburn area.
It offers mutual, informal support and is a group who have been affected personally by suicide and understands the pain, distress and confusion that individuals and families experience.
The official launch, in partnership with the South Eastern Health & Social Care Trust (SEHSCT) and The Public Health Agency (PHA), will take place this Saturday 20 November (World Suicide Survivors Day) at 6pm at Castle Gardens.
Brian Anderson, Chair of Horizons, said: "We want people to know they are not alone in this unwanted tragedy that they have suffered and how we would appreciate the opportunity to journey with them so they can begin to find hope to replace the absolute devastation of the loss of a loved person to Suicide."
Kevin Bailey, Suicide Prevention Co-ordinator for the South Eastern Trust added; "Horizons, bereaved by suicide support group is a vital new development that will add significantly to the current range of services provided by community, voluntary and statutory partners. Horizons is an initiative for families by families seeking to help those affected by suicide with a caring, compassionate and non-judgmental approach to all."
The groups say suicide knows no boundaries, and families and friends from all communities are encouraged to go along and support this event. For more information please contact Brian Anderson on 07736715602.
Ulster Star
19/11/2010