Perfect setting for launch of suicide support group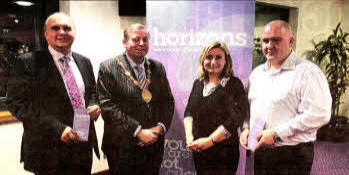 Rev Brian Anderson, Alderman Paul Porter, special guest Lynda Bryans and Kevin Bailey, Suicide prevention co-ordinator at the launch of Horizon's- A Vision for Suicide Support and Awareness in Lisburn.
LOVED ones who have taken their own lives were remembered at a poignant ceremony in Lisburn at the weekend to launch a new support and awareness group.
Saturday was chosen from the launch of Horizon's because the date is internationally known as 'Suicide Survivors' Day'.
The crisp night air gave the perfect setting in Castle Gardens for the launch and around 80 people were joined by the Mayor of Lisburn, Alderman Paul Porter and the special guest, Lynda Bryans.
The evening was divided into two parts.
The first was to remember the loved ones who had taken their life. With words and prayers, Chair of the Group, the Rev Brian Anderson led proceedings, which were followed by Jim Weir (FASA) who powerfully sang Amazing Grace.
During the singing a lantern was set of into the dark sky to symbolically say the light of life will share with the darkness of suicide'.
Led by Lynda, the group then made there way by candlelight procession the short distance to the Island Centre, where they heard the sweet singing of the Lisburn Ladies Choir, who greeted the walkers at the entrance. The use of the facilities at the Island Centre was given courtesy of the Mayor.
The formal second part of the launch included the background to the group, informing people that Horizons wished to be a support for people affected by suicide through an informal fortnightly drop-in at the Bridge Community Centre. As the group develops other services will be provided.
Lynda Bryans spoke movingly about her own journey through mental illness, highlighting the need to do all we can to remove the stigma that sadly comes to suffers of depression and she allied suicide with it. She congratulated the committee of Horizons on their caring attitude and hoped they would be a help to those dealing with so many complex issues.
Kevin Bailey, Suicide prevention co-ordinator for the Trust and committee member, brought the launch to a close finishing with a poem 'We Remember Them'.
Tea shortbread and chat brought the evening to a close.
Ulster Star
26/11/2010