Local school delighted as new way to teach reading
sends standards even higher
by REBECCA McTIER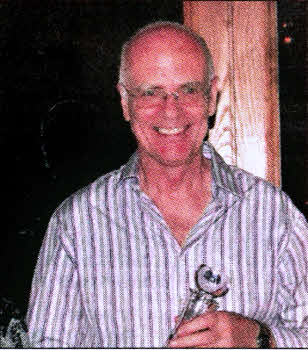 A LOCAL primary school principal has said the introduction of Synthetic Phonics using a system devised by a former head teacher from London to help improve the standard of children's reading is one of the must successful and exciting curriculum changes he has seen in 40 years of teaching.
Mr Derek Capper, the Principal of Anahilt Primary, said it has been a major success in the school and is offering to talk to other primaries about their experiences.
A report by Sir Jim Rose in 2006 recommended schools teach phonics to improve the standard of reading. Mr Capper said while the standards of reading were already high in Anahilt, they recognised the need for a more structured approach to the teaching of phonics and introduced the Read Write Inc (RWInc) scheme, devised by Ruth Miskin, a former Head Teacher from London. Ruth featured in the Channel 4 programme 'Lost for Words' and in numerous other shows.
"It is no wonder Italian and Spanish children learn to read and spell quickly and easily with 26 letters, around 26 sounds and 26 graphemes (letter groups)" explained Mr Capper. "The English language is one of the most complex with 26 letters, 44 speech sounds and over 150 graphemes. An example is the speech sound 'ay' which can be spelt ay, ai, a-e, aigh, eigh, eig and ei! As we have so much grapheme choice, learning to read in English is a difficult process."
All members of staff, both teachers and classroom assistants, were trained to teach phonics in a highly structured way and the children in P1 - P5 were tested and assigned to a group for teaching according to their own knowledge of sounds. This meant that children were taught in groups which consisted of pupils of different ages, but as they were focused on particular sounds this proved very effective. The children were assessed every eight weeks and then re-assigned to a new group according to their progress.
Parents were also trained and told what was happening from the outset so they could understand what was happening in school, and why, so the work could be re-enforced at home. As the year progressed changes were made to the pattern of teaching. As teachers grew in both confidence and competence the progress of the children was notable.
Alongside the teaching of phonics the Principal and Vice principal, Alison McCune, carried out an evalutation which included standardised tests. The outcome of these showed there is a signifigant improvement in the children's reading.
"Staff' parents and children all had the opportunity to inform the school on their perceptions of the scheme. All staff and the vast majority of parents were in favour of the programme and recognised the positive changes it had made to their children's reading and spelling" said Mr Capper.
'Most remarkable progress was by those children who were receiving special needs support for their reading by a specialist teacher as compared to children in other schools and not participating in the RWInc phonics programme."
Mrs McCune said the programme has had 'a profound effect on the teaching of reading for the vast majority of children'.
"We are giving the children strategies to help them read unknown or previously unseen words. The whole aim of the programme is for the children to succeed in learning to read and therefore no longer need to be taught phonics because they know all the sounds, so that they can then 'read to learn'."
The school is happy to talk to other schools about the programme and Mr Capper can be contacted at the school on 9263 8557.
Anahilt Primary also hopes to host a visit in the autumn by Ruth Miskin during a visit to promote her programme. The scheme has been such a success that the school will now be introducing the RWInc Comprehension and Spelling schemes into its work as they complement the phonics programme.
Mr Capper said: "Not only is this one of the most successful curriculum changes but one of the most exciting in which I have been engaged in 40 years of teaching."
However, one parent identified a problem with the scheme. She said she could no longer spell out words which she did not want her son to hear bcause he was able to blend the letters and their sounds together and know what the word was! Gone are the secret messages of parents.
Ulster Star
13/06/2010