A march down memory lane for the Not Forgotten Association
by JULIE ANN SPENCE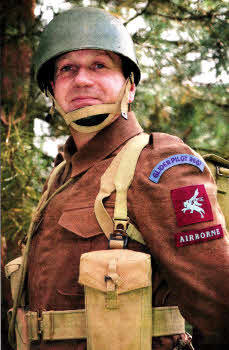 Warrant Officer Class 2 Mike Garnett in period dress
WARRANT Officer 2nd Class Mike Garnett, who works in the clothing store in Thiepval Barracks, is taking a march down memory lane to raise the profile of the Not Forgotten Association.
The Association first opened its doors to Britain's military veterans in 1920, with the Northern Ireland branch being formed in 1930 by Lord Dunleath and Sir Frederick Halfpenny.
Looking after the differing needs of former servicemen and women, from providing them with TV licenses to holidays for disabled veterans, the Associations profile may not as high profile as some other forces charities however its role is just as important.
Doing his bit for the Association at the beginning of October, Warrant Officer 2nd Class (W02) Mike Garnett will be retracing the WW2 20-mile, the route of the old allied front line in the area of Normandy taken by British soldiers.
Mike, who has been in the Army for 26-years, is keen to highlight the work of the charity and help raise much needed funds. "Although by 'Help for Heroes' standards the Association isn't as well known to the public, its plays a vital role in ensuring that ex-service men and women have access to things that we all take for granted," he said.
The regional chairman of the Association, retired Lieutenant Colonel (Lt Col) Stewart Kirkwood, is delighted with Mike's involvement with the charity "We're very enthusiastic about it and the fact that Mike and his colleagues have come forward to support the work of the Association, not only in Northern Ireland but nationally," he said.
"Their support is of great value to us particularly in fundraising because what we do in terms of our work is dependant on the amount of funding we receive."
Anyone wishing to contribute to the Not Forgotten Association, follow Mike's progress or would like to know more about the work of the association should go to www.pegasusmarch.co.uk.
julleann.spence@ujsterstar.co.uk
Ulster Star
24/09/2010