LISBURN BRACED FOR THIEPVAL BLOW
One of two Brigade HQs set to be moved in defence shake up
by JULIE ANN SPENCE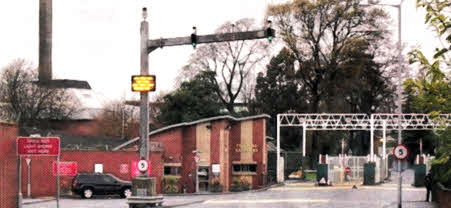 Thiepval Barracks in Lisburn - MP fears one of the two Brigade HQs will be moved out in defence shake up
LAGAN Valley MP Jeffrey Donaldson has said he fears one of the two Army Brigades stationed at Thiepval Barracks will be moved out of Northern Ireland as part of the Strategic Defence Review.
Mr Donaldson said there was no suggestion the barracks would close, but he said the loss of the 5,000 to 6,000 troops along with their families and support staff would inevitably have consequences for civilian staff as well as the economy of Lisburn.
It was announced this week the army will have to cut up to 7,000 personnel over the next ftve years, the Ministry of Defence will lose 25,000 civilian staff over the same period and it will have to sell-off unnecessary" buildings and assets.
Mr Donaldson, who is also a member of the Defence Select Committee at Westminster, said he understands one of the two Brigades currently housed in Lisburn will be relocated to England.
Thiepval is currently home to 38th (Irish) Brigade and 19th Light Brigade, which moved to Lisburn from North Yorkshire in 2008. There are approximately 5000-6000 troops in a Brigade, with many also having their families based in the city, although not all of troops will be stationed at the Lisburn headquarters at any one time.
In addition to the troop levels, Thiepval also employs some 5,000 civilian staff, who could also be affected by the move.
In a statement the MOD said they intended to "significantly reduce our non-deployable regional administrative structure", which has not helped alleviate the concerns of local civilian staff.
"I am told by the MOD that they have not yet made specific decisions about future deployment in Northern Ireland," said Mr Donaldson. "I do understand however that one of the two Brigade Headquarters currently based at Thiepval will be based in the mainland. It is not clear yet at this stage what impact this will have in terms of potential job losses but there is no question of the base being closed, in contrast with a big question mark that now rests over Ballykinlar. I have been assured Thiepval will continue to play a key part in the army presence in Northern Ireland."
Mr Donaldson said he knew there were worries amongst civilian staff at Thiepval.
"I met recently with some of the representatives from the civilian staff at Thiepval and I know they have concerns about the impact of job losses. This is something I intend to discuss with the Secretary of State for Defence and I will also be raising the matter as a member of the Defence Select Committee at Westminster."
Mr Donaldson said he has also received assurances from the Prime Minister that reductions in troop numbers would not affect frontline infantry units such as the Royal Irish Regiment.
Lagan Valley MLA Paul Givan, who wrote to the Minister of State for the Armed Forces, Nick Harvey to express his concerns about the future of Thiepval and the staffing levels there said he had been told any reduction in personnel would not be a "salami-slicing exercise" but that there would be flexibility.
"The greatest concern I have is the potential impact on civilian personnel," said Mr Givan. "Many of these employees, given the difficult circumstances and increasing threat from republican dissidents, have endured greater security risks than would have been the case in alternative employment. The Minister responsible for Northern Ireland has accepted this is an unsettling time for those concerned but has assured me the case I have made is being given full consideration.
As a City we have a long and proud association with the British Army and do not wish to have that diminished."
julieann.spence@ulsterstar.co.uk
Ulster Star
22/10/2010