Three Priests top American charts
by MARY MAGEE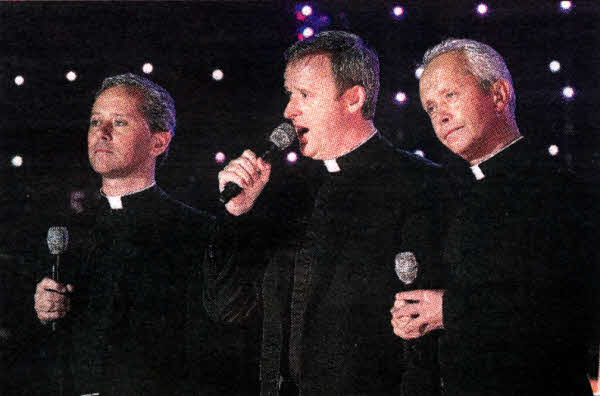 The Priests performing at this year's BBC Proms in the Park in Hillsborough with Fr David DeLargy in the middle.
A PARISH Priest from Hannahstown has succeeded in what many artists crave - becoming a top seller in the American music charts.
Fr David DeLargy, who is part of the The Priests trio which also comprises of Fr. Eugene O'Hagan and Fr Martin O'Hagan, have proved a huge hit globally and have broken into the American market.
The classical group have topped two Billboard charts which collate the most successful acts of 2010.
They are the top selling artist of the year in the US Billboard Traditional Classical artist chart. Fr DeLargy described the news as 'wonderful' and 'utterly unexpected.'
"We are absolutely delighted to be number one classical artist and number one traditional classical album in the United States for 2010," he said.
"The past three years have been like a rollercoaster. It's been thrilling. The enormous international success of our debut album entitled simply The Priests took us all by surprise.
"Getting into the Guinness Book of World Records for being the fastest selling debut for a classical act was like a dream. Nominations for Classical Brit Awards for Classical Album of The Year two years in a row for The Priests and for our follow up album Harmony were such a wonderful surprise.
"The writing of our semi autobiographical book Soul Song earlier in the year and the recording of our Christmas album Noel have kept us busy, particularly since our parish work continues as before.
"Income from the sale of albums has funded a variety of charitable projects internationally, specifically the building of schools in Cambodia and Uganda and the support of a children's educational project in Thailand. The Priests Charitable Trust has also supported charities which help the homeless both in Ireland and in the UK and Sightsavers international. The sick and retired priests of the Diocese of Down and Connor have benefited as has St Peter's diocesan cathedral scholar."
Since signing a record deal in April 2008, The Priests have become global superstars with their debut album going platinum in four countries and gold in three.
In December 2008 they were awarded the Guinness World Record for Fastest-Selling UK Debut for a classical act.
But despite their success, the trio continue to work in their respective parishes and in the Diocese of Down and Connor. They have been singing together since boarding as students at St MacNissi's College in County Antrim.
Fr. David followed his vocation training at The Seminary in Belfast, where he specialised in Ancient History and Scholastic Philosophy. During that time he also studied under the Belfast based singing teacher Mr. Frank Capper MBE. He concluded his training at the revered Irish College in Rome for four years.
Ulster Star
24/12/2010