Search for Lisburn's time capsule all in vane
Contents were removed many years ago
by JENNY MONROE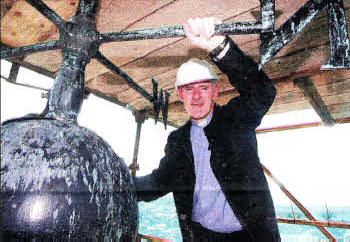 A TIME capsule hidden in the weather vane at the top of Lisburn Cathedral seemed set to give a glimpse of life in the city nearly 80 years ago when it was opened as part of a £1m refurbishment.
But when, amid great excitement, the capsule was unearthed it emerged it had been tampered with and the contents removed, leaving only the empty container and some chisel marks.
However, there will be no point looking for the culprit as it seems to have happened many years ago.
It appears the weather vane created by Thomes J Hanna, a blacksmith in Graham Gardens, has been tampered with some time since it was installed in 1930 and the capsule refled. It's known that it contained a newspaper of the day and at least two coins engraved by local jeweller, Frank Pettigrew, then located on Bow Street.
A very disappointed Rector, Canon Sam Wright said: "We were upset to discover that what we hoped was a little piece of history, hidden at the highest point in Lisburn, has gone missing. I was looking forward to experiencing the thrill of discovery when the capsule was opened but that, sadly, is not to be."
On a more positive note, the Cathedral is planning to place its own time capsule in the newly refurbished weather vane and hopes the people of Lisburn and the Cathedral's congregation will
help come up with ideas for items to include that represent Lisburn in 2010.
Mr Wright continued: "We are undergoing a £1million refurbishment and renovation of this beautiful Cathedral building in the hope that this will be blessing for future generations, the hope is that they will enjoy and worship here as we do now.
"Our vision is that the good work we do here will be carried on for many many years to come and we would like to reach out to the people of Lisburn as we place a selection of small items in the weather vane so that they can look back and get a feel for what Lisburn was like in 2010." If you have any ideas as to what items should be placed in the time capsule please send them to office@lisburncathedral.org
Ulster Star
18/06/2010