The tiny charity that makes a very big impression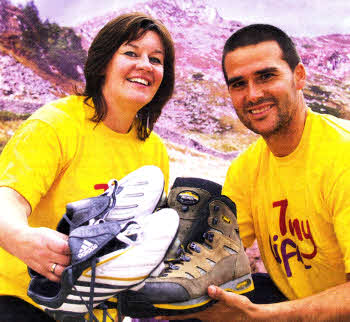 David Healy, Patron of TinyLife took time out of his hectic football training schedule to encourage the Northern lreland public to `Take a Hike for TinyLife' up Slieve Donard on Saturday September 11. He is joined by TinyLife Fundraising Manager Valerie Cromie
TINYLIFE is Northern Ireland's premature and vulnerable baby charity, dedicated to reducing premature birth, illness, disability and death in babies born here.
Thanks to its many supporters, they have helped support premature babies and their parents in Northern Ireland for 21 years.
Last year over 1800 babies were born prematurely in Northern Ireland so this year theyneed your help more than ever.
Formerly known as NIMBA (Northern Ireland Mother and Baby Action), TinyLife is committed to funding medical research into the causes of premature birth, stillbirth and miscarriage and providing information to professionals and parents-to-be to ensure that every pregnancy has the best chance of a healthy outcome and a healthy baby. TinyLife also offers practical and emotional support to ensure that parents of premature and ill babies get all the help they need.
Their website - www.tinylife.org.uk - provides information on the services they provide, their education programme, fundraising activities and volunteering opportunities.
So whether you are a parent in need of support, a corporate organisation who would like to make a contribution to the local community or a potential volunteer, there's something for everyone!
Why did the charity change their name? Northern Ireland Mother and Baby Action on reaching its 18th Birthday developed an identity crisis.
Like any 18 year old they are very proud of our achievements. They have worked hard over the past 18 years, having raised over £500,000 for medical research, increased their support to families with premature and ill babies, developed a range of educational leaflets, and facilitated conferences for heaiteh professionals and families; yet very few people recognised NIMBA if they had not benefited from the work of the charity.
They understand as long time supporters of NIMBA many opeople will find it very hard to believe, but as a charity relying on businesses support and the generosity of the public
to raise vital funds to sustain their work they needed to be recognised instantly by everyone in Northern Ireland.
The charity has progressed over the years from 'mother and baby appeal' to an organisation with a holistic approach to family support.
The decision to change was not an easy one and everyone involved with NIMBA worked hard to ensure they-made the right decision.
They think they have and they hope you agree.
Nothing else has changed; they may be Tiny but they aim to make a big impression.
The backing and expertise of the board and Patrons has helped TinyLife to go from strength to strength. They are delighted to have the support of Professor Jim Dornan as TinyLife's President; retired Head of the Civil Service Sir Nigel Hamiiteon, retired businessman Dan Corr as our Chairman, Sharon Corr (Musician - member of the Corrs) Sarah Travers (BBC) and Paddy Wallace (Ulster/Ireland Rugby) and David Healy (International and Premiership Footballer) as Patrons.
Ulster Star
30/07/2010