Royal honour for TNT charity champ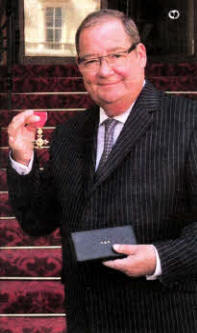 THE pioneer of a multi-million pound charity drive which delivers a better quality of life for tens of thousands of disabled and disadvantaged youngsters has won Royal recognition.
Regional Managing Director of Crumlin express courier leaders, TNT, Tom Bell inspired company employees to raise well over £2.5m to support the children's charity, Wooden Spoon through sponsored aeroplane pulls and international bike rides to name but a few. As the driving force behind the fundraising effort over the past 12 years, Tom was recognised when he was invested as an Officer of the British Empire (OBE) by HM Queen Elizabeth H in a ceremony at Buckingham Palace.
Mr Bell said: "I am incredibly proud and, in many ways humbled to accept the award. I feel it is a reflection on the magnificent and unstinting efforts of everybody at TNT Belfast. It is a privilege to lead such a wonderful body of people and this award is a tribute to their continuing efforts and generosity. Our people are incredibly resourceful when it comes to raising money for Wooden Spoon and this recognition is as much theirs as it is mine."
Tom was instrumental in introducing a programme that enables employees at Belfast to take time out of their working day to visit local Wooden Spoon supported projects to witness, first hand, how TNT donations are put to best use at special needs schools, children's hospital wards, sensory rooms, hydrotherapy pools and playground areas.
Tom's career in the transport industry spans 37 years, the last 33 with TNT Express Services. He became Managing Director in 1989 and is a Fellow of the Chartered Institute of Transport. He has a wife Gina and two children, Scott and Amy.
Ulster Star
06/08/2010