Lisburn veteran is honoured on Armed Forces Day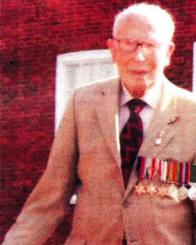 LISBURN man Tom Hinds has been honoured during an Armed Forces Day commemoration ceremony in Brentwood, where he has now made his home.
Mr Hinds, who turns 99 in August, was raised in Lisburn and lived in the Beechdene area of the city.
In April 1939, at the age of 27, he signed up to join the war effort. "I felt I needed to do my duty to my country," he said.
In April 1939, Mr Hinds was stationed at Holywood as a gunner in the 26th Bty HAA Regiment of the Royal Artillery and by September had worked his way up to become a sergeant.
During the Second World War Mr Hinds fought in Egypt, Africa, Tripoli in Libya and Italy.
While on leave in 1944 he married his wife Betty, who is now 94, but weeks later was sent to the Isle of Sheppey.
"It wasn't nice and was worrying because you didn't know what was going to happen or when he would be home," explained Mrs Hinds. "He tried to write once a week but couldn't say much because everything was censored."
Mr Hinds served until 1946, when he joined the reserves until he was discharged in 1956.
When he came back he had changed but he settled back fairly well'" recalls Mrs Hinds. "He had seen a lot of sad things and as the years passed many of his friends were killed.
"It was a change for me as well because I had been living at home with my parents and now we had to find our own house."
The couple settled back to life in Lisburn and Mr Hinds worked as the local group secretary for the Farmers Union until his retirement. He was also very active in the Masonic, Orange and Black.
Twenty years ago Mr Hinds and his wife moved to England to be closer to their two sons but he has always called Lisburn his home.
As the oldest member of Brentwood Royal British Legion, Mr Hinds took centre stage on a podium recently as a salute was taken to mark Armed Forces Day.
"It's just a way of thanking him and others for what they did for all of us," added Branch Secretary Eunice Woolmore.
Ulster Star
06/08/2010